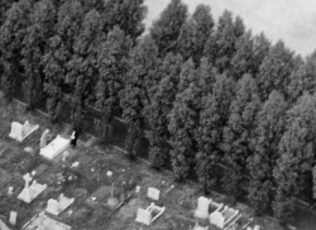 The exact date of this photograph and who took it is unknown.
It has captured a number of local history aspects that have now disappeared or altered considerably.
Round the churchyard is a short wall with a fence on top and the gates into the churchyard are wooden ones. These were replaced in 1961 for the Golden Jubilee of St Alban's Church, when a stone wall was built and iron gates erected.
At the side of the gate is a young tree, near to the commonwealth war grave of nurse Young, this tree has now spread its branches over the top of the war grave. The tree is full of blossom in the spring and is beautiful to see.
The building on the left of the church was originally St David's Mission Church built in 1905. St Albans church was built and dedicated in 1911 and the mission church was then used for various activities over many years, including plays put on by the St Alban's Players. It was often referred to as the Parish Rooms or the Church Hall, and was demolished in the late 1960's.
At the top of the photo behind the church is the parsonage garden with various outbuildings.
On the right of the picture is a double row of poplar trees with a path between them. When these trees were planted and taken down is unknown, there is no evidence of them now. The school yard can be seen at the other side of the trees.
A closer look at the photograph shows two ladies at one of the graves.
Across the road from the church can be seen the entrance with wooden fencing, to the original Miners Welfare. The entrance is believed to have been altered in the 1970's.