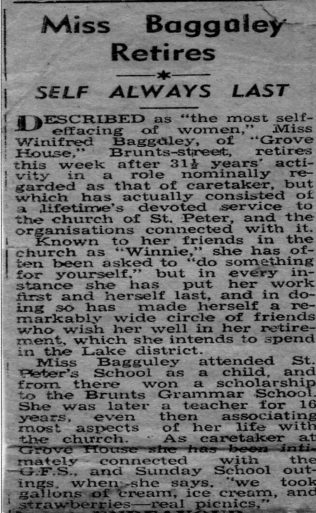 My Life at St Peter's
Notes written by Winifred Baggaley
Photo of St Peters Church from Autograph Book
Leaving St Peter's
And now I am leaving St Peter's with all it's happy childhood memories of Day and Sunday school.. [I]- taught for over 16½yrs, and now many of the boys are married, with children of their own coming to Church.
Grove House
St Peter's was my life before coming to live at Grove House; [Brunt Street] which I did for 31½yrs, and now owing to health reasons I am having to resign my post.
Sunday School Outings
The wonderful school treats we had when nearly 500 children came. The Annual GFs [Garden Fetes]and SS [Sunday School] teachers outings by charabanc to Haddon Hall, Wellbeck, and old historic places, when we took with us gallons of ice cream and strawberries, in fact real picnics. Those were the Days.
"One can truly quote the Hymn;" " 'I'hro all the changing Scenes of Life ".. Canon Marsh was Vicar here during the building of the Parochial Hall. What a time we had, as many as 8 Whist Drives a week, by ladies of the Parish, everyone worked- so hard to raise funds for it.
Foundation Stone
The Laying of the Foundation Stone was a great Day. Then came -opening, with it's delightful Concert's, Play's, and Parties that up date are still enjoyed by young and old.. In my time SIX Vicars have passed through St Peter's, and- Curate's to numerous to mention. .
Working here I enjoyed many privileges, especially the Clergy breakfasts, Luncheons, and parties, not to mention Bazaars, Garden Parties and Fete's etc. These meant extra work, but we usually took them in stride and what a. pleasure it was. [see St Peters Church, Fun Fellowship & Finance]
My aim in life here was to try and, do everything that was asked of me. God truly gave me wonderful Health and strength these many years.
The War
The WAR came and St Peter's nobly rose to the occasion. The return of soldiers from Dunkirk, the Canteen was a joy to so many soldiers even the Convoys passing through as they did on several occasions, it was something to remember some their REASON: had been saved in the quietness of Grove House and gardens.
Then too when the Sirens sounded, as they did so often during the night, the old ladies in the street came along down into the shelter, with blankets, pillows, one could usually find cups of tea for them.
Youth Fellowship
I have always taken a personal interest in young people. Our first YF [Youth Fellowship] in ? ? A.J. Evans time as Leader was splendid.] The small Fetes they organised.The poor children's outings to Skegness. The home made toffee, made, and sold to provide funds for various affairs, all have pleasant memories. I can truthfully say, we all tried to live up to our Fellowship Prayer, "Teach us Good Lord."
It has been a wonderful experience as the years have passed into the present day fellowship where, as one leaves for College, work, or the forces, others still come along to take their] places. I shall take many happy memories with me and have time to look back with Love and Affection on St Peter's, as I spend; my days quietly in the beautiful Lake District.
Winifred Baggaley