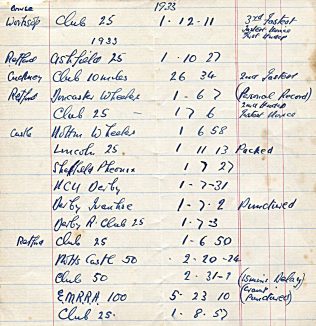 John Frederick Newton was born 1910 at Crown Farm, Mansfield. He was known to family and friends as John – Jack or Fred, and they all knew he was a man who loved cycling.
Active cyclist –In his younger years he was an active cyclist – in later years he loved to reminisce about the races he had been in, medals he had won and the 'known' cyclist of his day.
Armchair cyclist –He would sit in his armchair, light up his pipe and away we would go:- 'Track racing at Forest Town, road races in Nottinghamshire, Derbyshire, Lincolnshire, Yorkshire etc., or club events in Mansfield.'
He loved to tell how his boss George Forrest [Forrest Removals] offered him a pay rise of ten bob to stop racing – there were no crash helmets in those days and employers couldn't afford to have men off of work because of leisure time accidents. [This would possibly have been around 1935, the year John married Phyllis Vamplew and the offer of extra money would have been an added bonus].
Memories;-
John bought his first bike second hand it cost 2/9d for a sit up and beg, this was when he was still at school. His bike when he was older was a Saxon Bailey
He joined Mansfield Victoria Cycle Club in November 1930, and began racing.
One race he recalled was from Ambergate to Derby and back in 2 inches of snow.
His medals dating from 1932 to 1935 were framed and used to be on display in his home. They were always a talking point.
He kept written notes on the races he took part in for the years 1930/32/33/34 recording his 'times', if it was a 'personal best', if he 'packed in' or 'punctured'.
He also had a good selection of newspaper cuttings but unfortunately didn't date them.
John was club champion in the years 1934/1935. Mansfield Victoria Club dinners were at the Oriental Café, Mansfield.
See Cycling Clubs History & Events page. 
Track racing – He would recall events on Forest Town Track when Freddi Ghilks from Woodhouse and the Murphy Bros all raced on the track. Harold Mapletoft fell off in front of John and he was injured.
At Whitsuntide there was the 'Whit Sports', and they used to race on the track, this was when the prizes were wrist watches, and little canteens of cutlery.
Finale – John died in 2005 aged 95, his medals and memorabilia have been donated to Mansfield Museum.