The Murder of Samuel Fell Wilson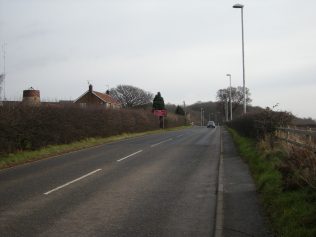 It was eighty years ago that tragedy struck in the small town of Market Warsop. The residents were shocked to hear that one of its own had been murdered, brutally shot dead as he was making his way home after an evening of work. Samuel Fell Wilson was a husband and father. A true family man, he had been running errands earlier in the day for his sister who had broken her leg. He was a successful business man too. His characteristics made Samuel a pillar of the local community but there was someone outdoors on the night of 22 September 1930 with thoughts of destroying a man, a family and a community, which would see one of the largest murder hunts known at that time.
The killer was perched, hiding at on the grass verge of a crossroads on Forest Road, just beyond the windmill, half way between Clipstone and Market Warsop. With his gun at the ready, and the knowledge that his victim was due to pass by, he waited to carry out his crime. He would have known that Samuel had a cash box containing perhaps as much as £26 in his vehicle. The police believed more than £20 had been taken; the days takings from collecting money owed by clients.
As the vehicle passed, the gunman fired his shotgun at it. He was a crack shot and hit Samuel in the shoulder. Samuel lost control of his Morris Cowley open top car which he had had converted into a commercial van for his grocery business. He drove onto the grass verge before driving back on the road. He eventually brought the vehicle to a standstill after sixty yards. The gunman walked up to the car, pointed the barrel of his shotgun through the window and fired once again directly in Samuel's face, killing him instantly. Not content by this act of barbarity, he pulled a hammer from his pocket and smashed it into Samuel's ribs, breaking them. He then made good his escape.
Two of Scotland Yard's greatest detectives, Chief Inspector Berrett and detective Sergeant Harris, were soon called in to help the local police. They undertook a major investigation but had little to work on. An examination of Samuel's car failed to identify any useable fingerprints. There were no footprints near the vehicle or on the grass verge where it was known the killer must have stood based on the available evidence.
It was believed that the type of weapon used meant that the gunman was a local poacher. Poaching was a major problem in the Market Warsop area. Indeed it was known there were several gangs of poachers who drove around late at night. Large numbers of known and suspected poachers were brought in for questioning but there was insufficient evidence linking any of them to the crime. The police announced they were certain a poacher was responsible. If they were wrong their focus on poachers alone may have prevented justice being done.
The murder weapon as eventually found, on a farm quarter of a mile from where Samuel was killed. It appeared the killer may have made a makeshift, temporary home in one of the barns on the farmland. The family on the farm were regarded as suspects but again there was no evidence linking them to the crime.
There were few clues forthcoming and many names have been put forward over the decades. Indeed during the research of my book several names were suggested to me, with these individuals discussed in my work. Who murdered Samuel Fell Wilson? Of course, we will never know. However, it is amazing to me that eighty years on there are still residents and former residents of Market Warsop still want justice for one of their own.
——–
The murder of Samuel Fell Wilson is discussed at length in Scott Lomax's book 'Unsolved Murders in and Around Derbyshire' published by Wharncliffe Books.