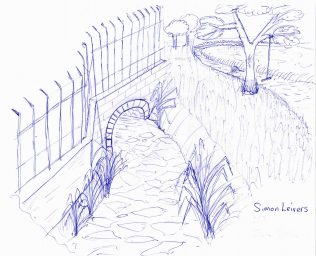 Alan Curtis has jogged my mind back now with his memories of old Quarry Lane, [see page Quarry Lane, Mansfieled]. I too used to play along there for many hours a day as a boy.
The Clear Waters
My favourite part though was a place known to us kids as what we called "The Clear waters". It was a place where the over run stream from the Hosiery Mills/Bleak Hills  ponds on Sheepbridge Lane joined with the Maun between Matlock Mill and the Hosiery Mills. We called it the "Clear waters" for obvious reasons. It was so clean and clear compared to the murky green Maun.  The stream was so clean that it would support fish that can only survive in clean waters. In the summer time we would take the tips of a fishing rod, tied on a short piece of line and dangle the hook loaded with a worm into the stream to catch small trout.
I have drawn a sketch of what I remember the place looked like from memory, does any one else remember this place ?
Fishing
The stream came through a tunnel that ran under the yard of the back of the hosiery mills. On the boundary wall of the yard the stream came out through a small arch about three and a half feet high, just about high enough for an eight year old to crouch into and catch the small trout that always lurked just under the tunnel entrance. Where the stream came out the bed was a sandy bottom covered in rocks. We used to turn the rocks over to catch fish called Bull heads (aka Millers thumbs), along with Crayfish. Water voles were everywhere too.
The River Maun area as it used to be
During the summer school holidays we would go to this area most days and spend nearly all day there. If we fancied a break from the fishing we would make a rope swing on the near by tree of which branches spanned over the river Maun that used to meander around the area and took a winding route. The Maun now takes a straight route as it was diverted many years ago. I have included the Maun in the sketch so you can see how it used to flow. The railings above the tunnel wall are still present today but the stream is now diverted underground and the area in the sketch is now covered in tarmac to form the new road leading from Sheepbridge Lane up to the Oakham Business Park, this all used to be a swampy, boggy area and loaded with wild life such as newts, birds and lots of butterflies and beautiful moths, its all gone now, but never from my memory.
Simon Leivers