Rushpool Open Space, Forest Town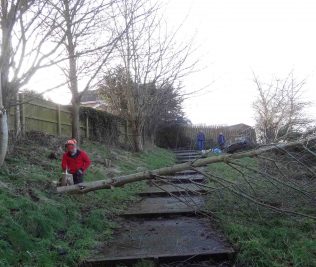 Rushpool Open Space nature reserve can be discovered in an area to the rear of the ASDA Mansfield, Old Mill Lane site. Situated among the masses of houses that have been built in this area, the open space has been retained showing what the local countryside was like before the builders moved in and changed the landscape forever.
Members of Forest Town Nature Conservation Group regularly meet there to observe and record the wildlife and fauna, also to maintain the site. The photos show members on Thursday 8th January 2015 volunteering under the guidance of Andy Hollis of the Sherwood Forest Trust, thinning out trees and shrubs and clearing litter on the site. It was an enjoyable and rewarding day.
For further information and photographs on Forest Town Nature Conservation Group see:
www.foresttown.net/index.php/nature