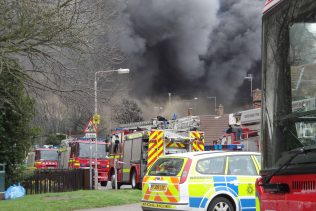 On Monday 4th April 2011, about 11am the continuing sound of emergency vehicle sirens filled the air at Forest Town, and a large plume of smoke gave indication as to what the emergency was.
On investigating the source it was found to come from the only remaining unused building of the old Sherwood Hall School. It was clearly seen to be ablaze.
It was said it was the largest fire in Nottinghamshire so far this year and warranted the attendance of eight Fire appliances with their crews of over 60 firemen, some from as far as Chesterfield and Clay Cross.
Other emergency services were also in attendance including Police and Ambulance personnel. Both the fire and ambulance services had their Control Vans attend along with a number of personnel in cars. There were so many vehicles attending that in addition to blocking Stuart Avenue, eventually the main Sherwood Hall Road had to be closed to other traffic.
People in nearby properties had to be evacuated to the Ravensdale Hotel until late in the afternoon when they were allowed back, but told to keep their windows and doors closed.
Due to the extent of the fire some of the firemen were kept in attendance on the site overnight, to ensure the fire was completely extinguished.
A time when our Emergency Services are much appreciated.