Mayor and Mayoress 1939-40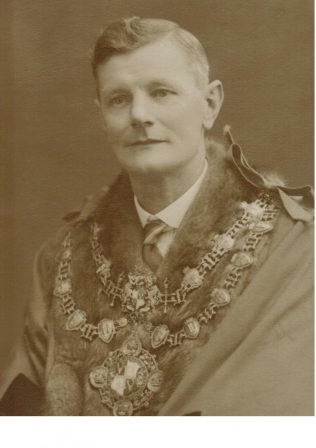 Percy and Jennie Stafford were wartime Mayor and Mayoress of Mansfield 1939-40. They also celebrated their Silver Wedding this year. Due to the Town Hall being unavailable,the mayor-making ceremony had to be held in the  Lecture Room at the Electricity  Showrooms in Regent Street which had been tastefully decorated with chrysanthemums and ferns for the occasion.
Percy was also an ARP Warden for the North East Division of Mansfield.
Jennie organised parcels for local troops containing cigarettes, warm socks and other home comforts, for which they received many letters of thanks. They ran the local "Spitfire" fund.
Percy had played football for Mansfield Mechanics and during the early part of WW1, for Mansfield Town. He also acted as umpire for Mansfield Cricket Club. Percy was Scoutmaster for the 1st Mansfield Troop (later known as the St Johns Troop).
A joiner by trade, Percy was a member of the Amalgamated Society of Woodworkers, serving as local branch secretary for 4 years. He held a similar role in the local branch of the Federation of Building Trades Employees.
Percy was chairman of the Rosemary School managers and also a manager of Broomhill School. Jennie was a school manager too, of Moor Lane School.
Percy left school at the age of 14 but never gave up on learning, being an avid reader.
He enlisted in 1916 as a gunner in the Royal Field Artillery and saw service in India and Mesopotamia, where he suffered a shrapnel wound to his arm. He contracted an "Oriental Sore" (now known as Leishmaniasis) and Amoebic Dysentry and was shipped home.
Having been of the Liberal persuasion, he changed his allegiance to Labour after he met a Kaffir on board ship at Cape Town and learnt of the terrible conditions that they had to work under.
Percy and Jennie went on to celebrate their Golden Wedding in 1965.
Jennie died first of a heart attack in 1966 and Percy, who had almost lost his sight completely, died in 1978.