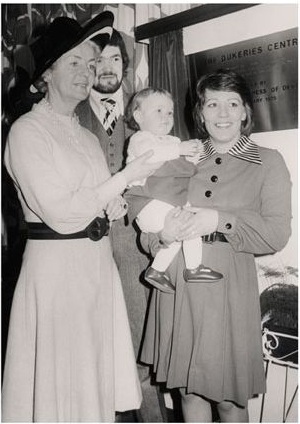 The new maternity unit had initially been planned in the 1960s and building commenced in 1970. There was a need for more beds and a larger delivery suite as more women were choosing to have their babies in hospital and the hospital was also covering a larger area.
The unit moved over on the 13th Jan 1974 and was later officially opened by Her Grace The Duchess of Devonshire. The next day, silver spoons were presented to the six babies who were born on 13th January. The first baby to be born in the Dukeries was Sarah Carr.
On the top floor was the medical ward for children – Robin Hood which remained here until recently when it moved into the new building and merged with Blandy ward to become ward 25. Below that was Hardwick Ward and Welbeck wards – obstetrics, and below that was Bert Ashworth ward which was named after the hospital Chairman Bert Ashworth and was a medical ward until recently when it moved to the new build – and seems to have lost the name, sadly. On the ground floor was the voluntary services bar and the voluntary services baby boutique with knitted babywear and equipment – unfortunately this didn't move to the new build at Kings Mill. The delivery suite and ante natal clinics were also on the ground floor.
The two wards in the second tower were Rufford and Thoresby ward which were medical wards up until they closed a few years ago. Thoresby specialised in gastroenterology and haematology (Leukaemia patients for example) and Rufford had dermatology patients – I can't recall what their other speciality was as I didn't work on Rufford – maybe someone could remind me. On the ground floor were the Kitchens which catered for the whole hospital – these have now moved.
This block was eventually turned into the school of nursing when it moved from Avenue House at the back of Mansfield General and is due to move into the main hospital in April 2011 – before all the nurse theory training officially moves to Nottingham in 2015.
The Dukeries building recently closed completely and all the maternity wards, delivery suite, clinics and premature baby unit have moved to the new buildings.
Most of this information was written from memory so please feel free to correct me if there are any errors.