Harlow Wood Orthopaedic Hospital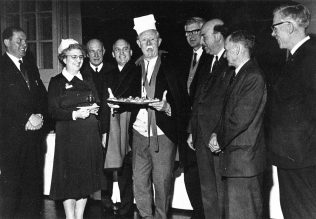 Visitors from Welbeck Abbey
Throughout the life of Harlow Wood Hospital there were numerous visitors. Among them were people who were staying at Welbeck Abbey with the Duke and Duchess of Portland. The Hospital was such an important part of the Duchess's life that she would encourage her guests to visit patients there.
The Duchess herself was a regular visitor to the hospital.
Leather Visitors Book
A leather bound Visitors Book contained the signatures of all the visitors. The first signature in the book written on the 3rd August 1929 was Elizabeth the then Duchess of York, followed by Albert her husband the Duke of York- they were later to become HRH King George V and Queen Elizabeth. A third signature on that page was Winifred Portland.
This visitor's book gave an insight into the many types of visitors from royalty, politicians, cricketers, entertainers, civic dignitaries, and many many more. It was a valuable asset in the history of this hospital
Missing
Sadly when Harlow Wood Orthopaedic Hospital Closed in 1995 the visitors book was not to be found.
Photographs
Fortunately photographs were taken of many of the visitors to the hospital.
These are just a selection of them.
Each photograph tells its own story.
Acknowledgement – it is not possible to name individually the many people who have contributed over past years to my information on Harlow Wood Hospital, they are all acknowledged. The original source of some documents and photographs are unknown, anything published is done so in good faith to share the information and keep the memory of this wonderful hospital alive