Harlow Wood Golden Jubilee 1979
Thanks to Soo Davies for lending it to me.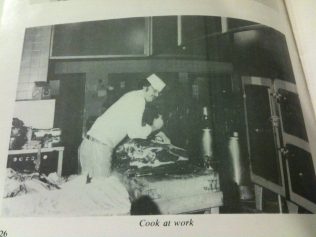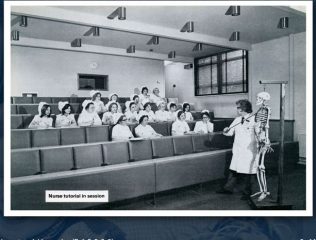 Carolyn Harris - Copyright
Carolyn Harris - Copyright
Carolyn Harris - Copyright
Carolyn Harris - Copyright
Carolyn Harris - Copyright
Carolyn Harris - Copyright
Carolyn Harris - Copyright
The following text is featured in the booklet of celebration for the Golden Jubilee of Harlow Wood in 1979. This was kindly lent to me by Staff Nurse Soo Davies who worked there at that time. The first pictures are from this booklet, the middle pictures are from the heritage wall at Kings Mill Hospital and the latter pictures are my own, taken shortly after closure – I would be grateful if anyone could clarify what wards and departments the pictures are of, as I didn't work there and I'm not sure. At the end of the booklet, there was a list of staff who worked at Harlow Wood in 1979, I would love any information and memories about any staff who worked there in1979, or at any other time during Harlow Wood's history.
INTRODUCTION
1979 marks to 50th Anniversary of the opening of the Harlow Wood Orthopaedic Hospital. We are proud to reflect that at this milestone in our history, the hospital had earned a world-wide reputation for excellence in Orthopaedics and at the same time enjoys through a long established relationship, the support and affection of the public in this locality.
We are grateful to all past and present members of staff who have made Harlow Wood what it is today, and look forward to maintaining and developing the services provided by the hospital in the years ahead.
Our thanks must go to Her Majesty Queen Elizabeth, The Queen Mother, who graciously sent a message of greeting on the occasion of our Jubilee and also to Her Grace, The Duchess of Portland and Councillor Booth, Chairman of Ashfield District Council for their generous interest and support.
I should like to thank all members of staff whose contributions have made this booklet possible.
Many thanks also to my secretary, Miss Brenda Spolton and Miss Elizabeth Dennis for their hard work in helping to produce the booklet.
Lastly, but certainly not least, my thanks must go to my assistant, Miss Amy Garton, a student in Administration from Trent Polytechnic, who in the two short months of her attachment with me has picked up completely the atmosphere of Harlow Wood and has recorded it here directly, and by compiling the contributions of long-serving staff. Like all of us, she will never forget Harlow Wood Orthopaedic Hospital!
J.S. Moore
Unit Administrator.
Letter featured in the Golden Jubilee Booklet:
It gives me great pleasure to contribute towards the Golden Jubilee publication and so publicly acknowledge the magnificent work done by the Harlow Wood Hospital during the last 50 years.
As a child I remember the opening of the hospital and I now consider it a privilege to represent the East Ward of Sutton-in-Ashfield on the Council, the Ward within which the hospital is situated.
I have made a number of visits during the years and have always found a friendly atmosphere which can be lacking in some larger hospitals. I might almost describe the feeling as being in a happy family home. Those conditions must be of great benefit to the rehabilitation of the patients.
In closing, may I wish the hospital and its staff continued success and give my best wishes for the future.
B. Booth, Chairman, Ashfield District Council.
Harlow Wood Orthopaedic Hospital – The Formative Years.
The name Harlow Wood first appears as "Horlow Clyf" in a map drawn in the reign of Edward III. "Low" is an Anglo-Saxon word meaning high, that is to say a hill, but the meaning of  "Hor" is disputed; some authorities translate it as treasure but others, less romantic, say it only means dirty. The wood part is clear enough, and it remained a wood – part of old Sherwood Forest – until a clearing was made for the hospital 50 years ago. The land was given by the Duke of Portland and his wife, Winifred, who was one of the prime movers in creating the hospital.
The Duchess of Portland's interest in this direction may be traced back to the formation of the Nottingham Cripples Guild in October 1907 and her acceptance of its presidency in the following year. She showed profound interest in the need of the Guild, working with unbounded enthusiasm and great drive and energy. By 1911 a convalescent home had been founded in Mablethorpe. However, a large group of people were in favour of a clinic to treat cripples, and during the following years it became increasingly apparent that a large number of crippled men, women and children were in need of orthopaedic hospital treatment. The Guild's decision to provide for this through residential accommodation was stemmed by the Great War of 1914/1918.
It is worth noting that the formation of the Orthopaedic Guild was part of a wider awareness within society that cripples and crippling diseases deserved treatment and could be treated. In the 19th century, the pioneers in this field of work had been W.J.Little of London and Hugh Owen Thomas of Liverpool. The latter's work was carried into this century by his nephew and pupil, Sir Robert Jones, who by his charm and perseverance helped to establish orthopaedics as a special branch of surgery. During the War, orthopaedic surgery made great advances and Sir Robert, together with Mr. G. R. Girdlestone of Oxford, drew up and published a national plan for helping cripples. This was to work in three ways – by prevention, treatment and training. A number of central orthopaedic hospitals were also to be established, each to be surrounded by a group of clinics which would be under its control.
In Nottinghamshire, the Cripple's Guild, wishing to assist in this scheme, held a meeting in 1923 at which Sir Robert attended. On his recommendation, a young orthopaedic surgeon by the name of Mr. S.A.S. Malkin was appointed to direct the scheme. Subsequently, the Nottingham Park Row Clinic came into being and soon after, more clinics were established in Mansfield, Worksop, Retford, Newark, Hucknall and Loughbrough.
In the early days of the Park Row Clinic, since there were no hospital beds available in Nottingham for the specialised treatment of orthopaedic patients, arrangements were made to transfer patients in need of such care to St.Gerrard's Hospital in Warwickshire and to Biddulph Grange Orthopaedic Hospital in Staffordshire.  As soon as the Park Row Clinic was firmly established, its committees came together to form a new committee whose prime object was to be the establishment of a country orthopaedic hospital in Nottinghamshire.
The Duke of Portland offered a very suitable site on his estate, and the public appeal made by him, the Duchess and interested friends in the Nottingham Guardian on 2nd March 1927, has been reproduced on page 11.
In 1928, when estimates of the costs of building stood at £30,000 only some £16,000 had been received or promised. Fortunately, the intervention of Lord Trent (then Sir Jesse Boot, founder of Boots the Chemist) and his generous offer to lend some of the capital required and allow is building company to build the hospital without profit, led to the laying of the foundation stone by the Duchess in November.
CITY GREETS DUKE AND DUCHESS OF YORK
Enthusiastic crowds assemble in the rain.
Cripples' Hospital Opened.
Memorable Ceremony at Harlow Wood.
Despite the inclement weather, the Duke and Duchess of York received a loyal and enthusiastic welcome from the citizens of Nottingham when they arrived in the city on Saturday en route for the Harlow Wood Orthopaedic Hospital, which her Royal Highness officially declared open.
This was the third occasion Nottingham has been honoured by a visit from Royalty within a year, but it was the first official visit to the city and county of the Duchess of York, who since her marriage to the King's second son has won her way into the hearts of thousands of British subjects all over the world.
Before proceeding to Harlow Wood, the Duke and Duchess of York were entertained to lunch at the Council House by the Lord Mayor and Lady Mayoress of Nottingham (Ald. And Mrs. A. R. Atkey), and altogether they spent about an hour and a half in the city.
In a short address at the hospital, the Duke of York described the institution as "Everyman's hospital," in which all had a share. It stood as a challenge to every man and women of goodwill to join in furthering that special work.
Nottingham Guardian – August 1929.
The Opening of Harlow Wood Orthopaedic Hospital
As can be seen from the report in the Nottingham Guardian, the opening of the hospital was a memorable landmark in the history of the county. On 3rd August 1929, the hospital was opened by their Royal Highnesses, the Duke and Duchess of York, later to become King George VI and Queen Elizabeth. The opening ceremony took place with an enthusiasm that even the heavy rain could not dampen.
It was reported that Harlow Wood was then one of the most up to date and well-equipped orthopaedic hospitals in the country, its object being not only to serve Nottinghamshire, but also to be the Orthopaedic Centre for the East Midlands.
With Mr. Alan Malkin, F.R.C.S., as a Surgeon-in-charge, Mr. J.P. Campbell, F.R.C.S. and Resident Surgical Officer and Miss Dorothea Denman as Matron, the first patients were received in September. At the time, the hospital had enough facilities to treat and care for 80 in-patients, both adults and children, and its building consisted of two wards (1 &2), the Reception block (containing the Operating Theatre), the Nurses Home and The Lodge. Shortly afterwards Ward 3 was built to accommodate 40 children.
THE EARLY YEARS
Over the next few years, as the waiting list grew in size, it became apparent that more accommodation was needed for male patients, many of whom were coal miners with injuries.
With contributions from many sources, including the Midland Colliery Indemnity Company, Ward 4 containing a private bed section was built.
The years of the 2nd World War perhaps did more for the recognition and progress of Orthopaedic surgery, for it brought with it a vast need for additional beds to rest and treat the large number of war casualties, many of whom had sustained bone injuries. To help with this direction, five "hutted" wards were erected at Harlow Wood and today, these still remain as: Ward 8, Ward 9, "Old Ward 7", Rehabilitation Ward and Medical Education & Research Centre.
The expansion was not limited to Harlow Wood alone, since the area of care in the hands of staff at this hospital spread to Lound Hall and to Red Cross Auxiliary Hospitals such as Norwood Park and Epperstone Manor.
Just before the end of the war, Lound Hall reverted back to its owner and a small Rehabilitation ward was set up at Harlow Wood. The hospital, however was to continue to treat injured ex-servicemen until sometime after the war.
The war years were a particular time for the country as a whole but also for the voluntary hospitals such as Harlow Wood, which witnessed greater government involvement in the services they offered. Talk of the "nationalisation" of hospitals ebbed and flowed during the war and it is also interesting to note the change in meaning and application of the word "cripple".
HARLOW WOOD IN THE POST WAR PERIOD
The National Health Service was established in 1948; Harlow Wood passed out of voluntary hands to be under the Nottingham No.5 Hospital Management Committee, itself under the Sheffield Regional Hospital Board.
Two years later, Portland Training College for the Disabled, next door to Harlow Wood, was opened by Her Majesty the Queen Mother (then Her Majesty the Queen) who also came to open our Remedial Pool, the same day.
When the Duchess of Portland passed away in 1954, the hospital committee, with approval from the Regional Hospital Board and financial help from Friends of Harlow Wood and other voluntary services, got together to erect the hospital chapel in her memory. On completion, four years later, the chapel was opened by the late Duke of Portland and the Bishop of Southwell.
The 1960's was mainly a period of modernisation and expansion: Harlow Wood had 240 beds, a twin theatre suite, the Alan Malkin House and later on a sewing/linen room, and administration block, "The Spinney" (flats and other residential accommodation for staff) and the engineering workshops; many of these buildings were erected after 1966, when the Mansfield Hospital Management Committee took over the hospital from Nottingham No.5 Hospital Management Committee.
The 1970's began similarly with the opening of the Harlow Wood Orthopaedic Nurse training Centre in 1972 and the completion of the new covered corridor system. Reorganisation of the National Health Service in 1974 altered the internal management structure of Harlow Wood and brought the hospital under the Central Nottinghamshire Health District, part of the four districts of Nottinghamshire Area Health Authority (Teaching) which is in the Trent Region Health Authority.
At a total cost of approximately £250,000, three new wards (5, 6 and 7) each with 28 beds were opened in 1975. That same year, the Anderson Lecture Theatre adjacent to the Orthopaedic Nurse Training Centre, was opened with financial help from the family of Mrs. E. Anderson.
Harlow Wood Today and the Future (Written in 1979)
In any hospital, the outpatient department is nearly always the venue for the patient's first port of contact. In the early years this department was not permanently manned by nursing staff and arrangements existed for other ward staff to conduct outpatient sessions as they arose.
Patient attendances have since increased so that at the end of 1978 some 4957 patients were seen. About a third of this number were seen by the Rheumatologist. In 1966 when total attendances for the year was 750, there was not a Rheumatology Consultancy at the hospital. When this consultancy was created in 1969, about 200 rheumatoid patients were seen in the outpatient department. By 1978, this figure had risen to 1666 and is still rising.
Understandably, the outpatient department of the 70's is much busier and includes a special dental suite. Clinics in Orthopaedics and Rheumatology are held through the week by Harlow Wood Consultants as well as by visiting Consultants; and a National Coal Board Research Fellowship Special Clinic is also held. Needless to say, our outpatient department now is run by a full-time nursing Sister.
The decision to bring a patient into hospital is taken by the Consultant with regard to the patient's condition as well as the availability of staff and services within the hospital. The processing of this decision into a letter of admission is carried out by Medical Records/Medical Secretaries' Department of the hospital. In Harlow Wood, this department is also responsible for ensuring that the patient's records, the patient himself and the Consultant concerned are brought together in one place at a given time so that consultation and treatment can take place.
When patients come into hospital, the type of welcome given by Reception staff often lingers in their memories, and it can be said without reservation that not only do our three receptionists cope admirably in this direction, but also combine it with managing the switchboard and keeping an eye/ear on the emergency alarm systems.
For many patients, entering a hospital ward is dreaded, and the thought of meeting the ward Sister is fearsome! It is indeed true that on any hospital ward the nurse in charge sets the tone to patients and staff morale. At Harlow Wood our Ward Sisters/Charge Nurses manage to combine their expertise with the day to day running of wards full with patients and all grades of staff.
There are, altogether, 9 wards, one of which is the rehabilitation unit, providing recreation and sleeping accommodation for male patients who go home each weekend, after a week of intensive Physiotherapy and Occupational Therapy treatment.
Of the remaining eight wards, Ward 4 for female and private patients has been closed for the past nine months.
As this is a specialist hospital, all wards can be said to deal with Orthopaedic type cases; they are however divided up between the various Consultants who are specialists within the area of Orthopaedics and Rheumatology.
The new wards, 5, 6 and 7 are mixed-sex wards with the same gender of patients sharing bays of six beds.
Ward 1, up-graded in 1973, cares for teenage girls who have to stay in for a longer period, as well as being the High Dependency Unit for patients immediately after a major operation.
Wards 8 and 9, built during the last war, house female and male patients respectively, and in the short term, we are looking forward to the Friends of Harlow Wood's provision of a joint day room for the use of patients in those two wards (all wards will then have a day room).
The hospital has a school run by the Nottinghamshire Education Authority for all children between the age of 2 and 16 years who are normally looked after on Wards 1 and 3. The school has a full time Head Teacher with supportive teachers, and offers tuition to "A" Level grade.
Ward 1 houses the teenage girls, and has, in this Jubilee year, been adopted by the Ships Company of the Mine Detector and Sweeper, HMS Brecon, the hull of which is made of a similar material to that of the girl's spinal jackets. Ongoing contact with the Ships Company as Brecon embarks on her trails will assist with the education of the girls.
To facilitate management, the Wards, Theatre suite and Outpatients Department units, each with its own Nursing Officer, both of them are responsible to the Senior Nursing Officer, the modern day version of the Matron.
In deciding what care and treatment should be given to a patient, the doctor uses certain diagnostic aids. These vary according to their availability and medical demand, though x-rays and pathology often form their bulk.
Harlow Wood is no exception to this practice, and as an orthopaedic hospital, it relies heavily on routine and special x-ray examinations. Our X-ray department is run by a Superintendant Radiographer, two Consultants Radiologists and staff Radiographers, and because of the nature of orthopaedics, it is a very busy section of the hospital, with its smooth running depending on the efficient transfer of patients to and fro. The Porters offer much assistance in this direction.
Up until October 1967, pathology services were available at the hospital at a small scale. Since then, they have been centralised so that all investigations are sent to King's Mill and Mansfield General Hospital.
With the increasing range and depth of pathology services, it has become more viable to centralise such services in easily accessible centres in which the specialist staff and complex and expensive equipment can be best put to use. This rationalisation has led to the availability of two part-time phlebotomists at Harlow Wood, who work in close collaboration with the wards, doctors and switchboard in order to take blood specimens from patients and send them off to the appropriate centre.
The Electrocardiograph (E.C.G.) also continues to grow in importance as a monitoring and diagnostic aid. Though E.C.G.s can be taken by medical and qualified nursing staff, their busy timetables has made it necessary for the hospital to set up a separate E.C.G. service administered by an E.C.G. technician.
Like the old Pathology laboratory, all our Pharmacy services were at one time provided for by a small pharmacy. Today, the Pharmacy is run mainly from the parent department at King's Mill Hospital, and a part-time staff Pharmacist based at Harlow Wood continues to see to the daily prescriptions and drugs for patients and lotions for the wards. However, the last few years have seen this local service develop and the Pharmacist now visits the wards regularly to give advice. A brand new Sub-Pharmacy is to be built near the visitors' entrance in 1980.
The Portering Department is one of the most misunderstood in any hospital. A typical picture in the minds of many people on what a Porter does is of one pushing a trolley or a wheelchair. In fact, Porters offer a range of services that take them not only to the wards, but to Theatre, X-ray and kitchen and numerous other departments in the hospital; at Harlow Wood, our Porters not only have to be au-fait with manning the switchboard when the telephonists are off, but they also manage to keep an eye on the hospital's general security as well as having a smile and reassuring chats to bewildered visitors and patients. It should now be easier to appreciate that a Porter must have knowledge of the work of most hospital departments in order to offer services to patients, staff and visitors.
The Domestic Services Department must be the second largest after the Nursing Department in respect of the number of staff employed within it. At Harlow Wood, as in all other hospitals, they work consistently to provide a high standard of cleanliness in all areas, including the very long corridors that connect the hospital buildings. Today, the Domestic Service has its own internal management structure, for gone are the days when all staff in the ward were answerable to the nurse n charge. This functional division has not prevented our domestic staff from working alongside staff in other departments, and it must be said that we are very lucky in having a very cheerful group of ladies who have characteristically worked with good will.
 Some say that "food is the staff of life" and at Harlow Wood we are fortunate to have a catering department which successfully strives to disprove the popular notion that there is nothing worse than hospital food. A plated meals service is offered to patients on some of the wards and a cafeteria service is enjoyed by all staff in the very pleasant and homely dining-room.
It is not unusual for many people to associate fresh clean white linen with hospitals. A great deal of hard work goes into making this provision for a hospital. Moreover, the stringent pre-operative preparation so necessary for orthopaedic surgery,  makes for the use of much clean linen. Consequently we tend to use a great deal of linen at Harlow Wood and at times its supply can be taken for granted. Our fresh linen comes from the District's main Laundry plant at Victoria Hospital in Mansfield, and our Linen and Sewing Room ladies work very hard behind the scenes to meet the hospital's demand.
Like the Linen Department, our Central Sterile Supplies Department (C.S.S.D.) receive clean dressings and equipment from the main department at King's Mill Hospital and distribute them to the wards, theatres and departments as needed.
As can be seen from C.S.S.D., Pharmacy provisions etc., there are a number of hospital services provided at Central or District level. In the Central Nottinghamshire Health District, of which Harlow Wood forms a part, central building services are similarly provided, with workshops in each hospital.
In conjunction with the Engineering section, the above department ensures that the fabric of the hospital is still in a good state of repair, and that regular maintenance checks are carried out on electrical and mechanical equipment. In addition, they provide 24 hour coverage to ensure that heating and the electricity supply is maintained.
We are very lucky that the hospital stands on grounds big enough for breathing space! Indeed, it was the intention of the founders that the physical environment should be such as to quickly promote the return to health of its patients. While the specialist and skilled staff see directly to caring for patients, the hospital grounds, covering some 27 acres are kept in trim by our team of gardeners, who also cultivate in their greenhouses some of the potted plants that so abundantly decorate the offices and corridors of the hospital.
Among our team of specialist and skilled staff, there is a group of Orthotists who fashion and make the orthoses and other surgical appliances so necessary for treatment in orthopaedics. The Harlow Wood Orthopaedic Workshop has been in existence since 1945 and also deals with repairs of some smaller hospital appliances. At the present time, proposals from DHSS and from Trent Regional Health Authority are in discussion so that in the future, Harlow Wood will be the site for a pilot Orthotic Centre, experimenting in the development of orthoses as well as providing teaching facilities in this area for medical staff in the selection and prescription of orthoses. The centre will also offer training for Remedial Therapists.
In most hospitals there are a group of staff available to support the medical and nursing staff by giving their specialist services direct to patients, in order to help them along their route to recovery. In orthopaedics the work of this group of staff, Physiotherapists Remedial Gymnasts and Occupational Therapists, is the most vital since orthopaedics is mostly about the correction of deformities.
"Physiotherapy has come a long way from the idea of the "Slap and Tickle Girls". Professional training and post graduate education enable our staff to apply a wide range of skills to the rehabilitation of patients, including the use of exercise, electrical treatment, hydro-therapy and the application of heat and cold to tender or swollen joints. Patients are now treated on the wards as well as in one or more of the treatment areas, the physiotherapy department, gymnasium or hydrotherapy pool. The majority are in-patients; some under the care of our Remedial Gymnast attend the Rehabilitation Unit Monday to Friday and a few attend for treatment as out-patients."  Miss W. Huggett, Superintendent Physiotherapist.
The Occupational Therapy Department at Harlow Wood offers a whole range of rehabilitation services for patients. It comprises of a well-equipped workshop with equipment for light work, heavy work and the normal activities encountered in any home. Patients are assisted by Occupational Therapists, Technicians, and Aides.
"The aim of our Occupational Therapy Department is to make the patients as independent as possible in routine daily living activities, e.g. dressing, toilet and household chores, etc., using aids as necessary. A workshop programme also exists t improve muscle power and range of movement in joints as part of the patients rehabilitation for return to work."                                     Mrs. I. Kay, Occupational Therapist.
The Medical Social Worker, although based at Harlow Wood Hospital is now employed by Nottinghamshire County Council Social Services Department and has special training and experience in dealing with those problems associated with illness, disability and admission to hospital.
Patients, and/or their relatives, may encounter problems of an emotional, financial or practical nature and the Medical Social Worker is available to offer advice and assistance where appropriate.
The Administration Department at Harlow Wood includes a General Office, Unit Administrator's Office and the Secretarial Offices. As well as giving supportive services and information to the Unit Administrator's Office, the other two offices offer a variety of services to the rest of the hospital. The Genera Office is probably the most well known among patients and staff, especially to the latter on pay day. The Unit Administrator's Office could be the most obscure place in any hospital so far as staff and patients are concerned; for most members of staff it is "that place". When the Health Service was reorganised in 1974 the "old" Hospital Secretaries became the present day Unit Administrators. With further changes in the internal management of the hospital the role and scope of the unit Administrator today is becoming essentially the same as that of his predecessor, though the job content is somewhat different, the Unit Administrator exists to co-ordinate the many activities that take place in any hospital and to ensure it works harmoniously.
A Selection of Letters from Patients seen at Harlow Wood.
"On my visit there I was myself amazed at the unfailing kindness and patience exercised by everyone to all the patients, and will never be able to thank you enough for the new lease of life without pain given to our mother."
"To Doctors, Matrons, Sisters and Nurses and Cleaning Staff of Harlow Wood, Mansfield, Nottingham, I thank you all very much for all you did for me whilst I was in your care."
"I wish to thank you all for giving me the best of attention during my stay at Harlow Wood, you all being most kind at all times. Nothing was ever too much trouble. I've given you all a lot of thought and I will never forget."
"Earlier this year I was a patient at Harlow Wood and have felt that I must say "thank you" for all the blessings I received there. I was a patient of Mr."X" and was most impressed by the efficiency of the staff and nothing was too much trouble for them to do, the speed with which they moved, especially when serving our meals to ensure these were presented to the patient as hot as possible was something to see. The lady cleaners, I must not forget to mention, were helpful in every way. The Physiotherapists both male and female came daily to the wards and their dedicated and inspiring help was given to the patients – how this was appreciated by the latter. What a noble job is being performed by the ladies of the WRVS who supply library books and to the shop on the trolley for all bed-ridden patients. Long live Harlow Wood!"
The Staff Sports and Social Club
The Harlow Wood Sports and Social Club has been in operation for many years. All staff are automatically members of the club, and there is a committee to represent the staff. The committee meet every month to discuss future functions etc. They include a disco nearly every month, Barn Dances, the Christmas Pantomime and trips to Sheffield Beer Keller! Facilities for staff recreation are also provided including table tennis, badminton, snooker and push bikes.
This year the Sports and Social Club raised money to buy a Heart machine for the hospital. The money was raised by many sponsored events.
 One particular event that will always be remembered by those involved was the sponsored bike ride from Harlow Wood to Skegness. Riding along back streets in the middle of the night, we found ourselves to be completely lost, but we kept on riding, after frequent visits from the Police along the way, we finally made it to the night camp, and also to our destination in Skegness the following morning. This event alone raised nearly £300 towards the fund.
Other events involved were, sponsored football matches, a 25 mile bike ride, Christmas Pantomime, raffles, donations by patients and members of the public. This all proved to be very successful, as the heart machine was presented to the hospital earlier in the year.
                                                David Nicholls, Secretary, Harlow Wood Sports and Social Club     
Voluntary Workers in Harlow Wood
The Voluntary Workers, under the Friends of Harlow Wood scheme, have been in existence at Harlow Wood for about 10 years. They provide a far ranging, and most appreciated service to visitors and staff alike. They run the Hospital Shop and Tea Bar, which is in a specially constructed building, and also provide a trolley service t the wards for patients who are unable to get to the shop. In addition, they provide a reception and escort service for patients, and each year students come to the hospital under the Duke of Edinburgh Award Scheme to help in the children's wards.
District Voluntary Services Co-ordinator: Mrs M.E. Young, J.P.                                                                                                                                                                       Chairman Harlow Wood Voluntary Service Scheme: Mrs N. Dugdale
The Friends of Harlow Wood
The Friends of Harlow Wood were formed in February 1949 from the Linen Guild which had been in existence since the opening of the hospital in 1929. The members of the Guild met to make and maintain many of the smaller items of clothing used in the wards and operating theatres and also to knit the jerseys and long socks which were much appreciated by the patients who in those days were nursed out of doors in all weathers – snow on the bed was no excuse to retreat into the ward!
When the National Health Service took over the hospital, the linen guild seemed redundant, but it was felt that if the human touch, which is vital in a hospital, was to be maintained, voluntary help would still be needed; so Harlow Wood like many other hospitals at the time formed a League of Friends and in 1951 became affiliated to the National League of Hospital Friends, adopting the Constitution set out by them. The Constitution is too long to quote here but its main points are that the Friends: "exist to mobilise, encourage, foster and maintain the interests of the public in the patients, and to support the work of the hospital by means of voluntary service and to generally support the charitable work of the hospital.
Since then, work has continued in an effort to make life a little easier for both staff and patients through the provision of items not available from National Health Service funds. Over the years, about £35,000 has been raised for this purpose and gifts from the Friends have ranges from water jugs for patients to the £10,000 promised towards building a day-room for Wards 8 and 9 which is to start soon.
Until 1970 all money had to be raised by subscription, with special efforts such as coffee mornings, jumble sales, Bridge Whist Drives, Garden Parties, etc., but in that year, to celebrate the Friends "coming of age" an appeal was launched to raise money to build and equip in conjunction with the Health Authority, a Hospital Shop and Tea Bar; this has subsequently provived a most welcome income.
In order to maintain a daily service to patients, staff and visitors in this Amenity Centre, the Friends appealed for more volunteers and the response was such that it made possible the organisation of additional services. These included Trolley Shop rounds to the wards, escort services for new patients and twice weekly floral arrangements for the wards. (See picture 40b).
All the organisation and the work undertaken is entirely voluntary and the Friends are also a registered charity so that all money donated or raised is used wholely for the benefit of the hospital and its patients and staff.
Gifts to the hospital have included:
Television sets, School equipment, Ward telephone trolleys, Cubicle curtains, Shower curtains, Slide projector, Christmas gifts for all in-patients, Parties and Outings for the children, Re-furnishing of Reception and Waiting Rooms.
In-conjunction with the hospital, the Friends have provided funds for: Furnishing in the hospital Chapel, Furnishing in the Portland Room, Conversion of Old Ward to the Postgraduate Medical Centre and its furnishings, Furnishing and equipment for the Hospital Shop and Tea Bar, Proposed Dayroom for Wards 8 and 9.
 Written by Mrs. J. Jackson of the Friends
Friends of Harlow Wood Hospital:
Chariman:                                          Mrs. Prew Smith
Vice-Chairman:                                  Mrs. J. Sooby
Secretary:                                           Mrs. E. R. Haggis
Treasurer:                                          Mrs. J. Corney
Chairman of the Amenity Centre:     Mrs. N. Dugdale.       
Staff at Harlow Wood on 1st December 1979
Nursing
Scott, D., Senior Nursing Officer, Bolton, E., Nursing Officer, Edwards, R.C., Nursing Officer, Du Toit, C.M., Nursing Officer
Trained Nurses
Askew,  R.E.
Bielczyk, P.
Brew, N.A.
Brunt, J.M.
Douglas, M.T.
Day, I.
Goundry, D.
Gray, M.P.
Haynes, M.J.
Henton, R.H.
Hillier, M.J.J.
Isbister, C.F.
Issindar, A.B.
Jackson, L.M.
Jones, M.B.
Jones, D.
Maltby, C.A.
Marshall, A.M.
Marshall, C.M.
McEwan, P.
Meadows, J.C.
Parkin, C.
Rack, P.
Salmon, D.C.
Senior, J.
Smith, A.
Smith, T.M.
Stephenson, E.J.
Sumner, S.M.
Wayne, M.
Wragg, D.
Brown, G.
Carr, K.
Davies, S.
Gilbert, S.M.
Hallam, K.
Hardwick, A.B.
Haynes, M.A.
Hill, C.
Hughes, J.
Nicholls, C.M.
Ogrizovic, M.H.
Power, J.M.
Riley, M.E.
Seals, D.
Sheridan, M.
Simpson, F.E.J.
Staples, C.
Sutton, H.P.
Tindale, J.
Thomas, K.
White, M.E.
Allen, E.A.
Ball, E.N.
Borrington, P.
Bourke, C.I.
Johnson, H.J.
Eckhardt, J.
Foster, B.
Guest, T.A.
Gustard, P.W.
Higgs, A.
Johns, M.E.
Leivers, M.S.
Matthew, M.
Pennington, I.M.
Sycamore, J.M.
Stone, Y.
Taylor, E.
Tennant, M.
Tunnicliffe, E.J.
Buchanan, M.
Grannum, C.W.
Smith, I.
Nursing Auxiliaries
Allsop, I.
Bailey, H.R.
Bolsher, J.A.
Brown, R.G.
Burns, J.H.
Burton, B.F.
Cameron, B.
Clipstone, G.N.
Colman, D.
Davies, S.H.
Dyer, I.J.E.
Eastwood, S.
Eley, N.I.
Esam, P.
Fisher, J.
Fordom, C.Z.
Foster, J.
France, G.D.
Gamble, J.S.
Gore, J.A.
Guest, J.
Hallam, F.J.
Hall, A.
Jones, M.J.
Johnson, P
Kane, S.M.
Malicki, M.R.
Mann, J.M.
MuColloch, J.C.
Montgomery, J.
Moore, J.
Musson, J.M.
Page, S.E.
Ratcliffe, A.M.
Rhodes, A.
Rhodes, A.
Robey, G.B.
Rose, E.M.
Sandor, B.
Shaw, B.
Shelton, T.W.
Simpson, G.
Sisson, J.
Small, D.E.
Spackman, M.
Spencer, E.M.
Taylor, V.
Thompson, H.J.
Timson, J.
Wakelin, L.
Warsop, J.M.
Wass, H.
Wilkin, J.
Nursing Orderlies
Keites, R.
Davis, J.T.W.
Peatfield, G.
Phillips, W.E.
Student and Pupil Nurses
Bagworth, D.
Beardah, Y.C.
Bircumshaw, B.D.
Birks, S.A.
Bodycote, J.
Bramall, S.
Breathwaite, C.M.
Breen, J.
Carney, J.
Clay, S.M.
Cobley, H.R.
Coventry, D.S.T.
Crampin, D.K.
Crossan, M.A.
Currie, S.A.
Dalton, J.W.
Frerson, J.D.
Grain, T.A.
Greaves, J.A.
Hardy, S.M.
Higson, K.J.
Hopkins, S.J.
Johnson, Y.E.
Johnson, S.C.
Knight, J.E.
Langham, W.D.
Larcombe, D.K.
Lindley, I.C.
Morgan, R.C.
Noble, J.A.
Powell, A.J.
Preston, E.A.
Price, Y.C.
Saxton, B.A.
Senior, A.R.
Shaw, J.M.
Shepley, J.A.
Southern, B.
Spencer, D.A.
Stephenson, J.A.
West, P.D.
Wain, J.G.
Wilson, A.K.
Domestic Services Department
Whyke, E. Domestic Services Manager
Bateman, E. Senior Housekeeper
Bond, P.                      Cotterill, J.                  Hubbard, G.                Shepherd, M.             
Herbert, M.                 Crane, D.                     Hutchinson, H.            Smart, P.                    
Sim, P.                         Cutts, S.                      Jepson, N.                   Starr, J.                       
Warren, G.                  Davis, N.                     Jevons, B.                    Stevenson, A.             
Allsop, J.                     Dixon, M.                    Jolly, M.                      Stocks, P.                   
Bates, M.                     Downes, M.                Jones, A.                     Tomblin, A.                
Berresford, I.              Drury, M                     Kehoe, I.                     Wagstaff, M.              
Bindokas, B.               Dwyer, J.                     Kerry, M.                    Walker, I.       
Blidaus, I.                   Ferguson, F.                Kerry, N.                     Wasowicz, J.              
Bowers, B.                  Foulkes, A.                  Lake, T.                       Webber, J.                  
Brennan, J.                  Gill, D.                        Mackenzie, P.              Wells, A.                                
Brittain, C.                  Goodrick, L.               Magee, A.                   White, G.                                           
Brocklehurst, R.          Greasley, M.                Milward, B.                 Willmott, S.                
Brown, R                    Guy, J.                         Newbury, M                Wilson, G.
Cawer, M.                   Gwynne, D.                Pallester, V.                 Wood, J.
Clements, E.                Hensleigh, K.              Porthouse, H.              Wright, C.
Collins, E.                   Hensleigh, M.              Richmond, D.
Cooper, J.                    Hooper, J.                    Roberts, G.
Portering Department
Smith, E. Head Porter.
Coles, B. Deputy Head Porter.
Bakewell, R.
Boulton, R.
Burton, B.
Chantry, K.
Ciesilzski, H.
Clarke, R.
Danbury, R.
Eyley, N.
Ford, K.
Freeman, F.
Musson, S.
Nicholls, D.
Smith, P.
Stroud, E.
Linen Sewing Room
Sharpe, J. Work Room Supervisor
Morris, A. Linen Room Supervisor
Caunt, J.
Jarvis, J.
Walker, G.
Gardeners
Bond, T. Senior Gardener
Ashwell, F.
Binyon, M.
Dawson, M.
Telephonists
Greengrass, E.
Helmkay, L.
Needham, L.F.
Twidale, M.M.
Orthopaedic Workshop
Pembleton, J.L. Technician in Charge
Brown, J.
Keites, E.
Lebeter, A.
Pembleton, C.J.
Rhodes, T.
Home Warden
Marron, D.
Stokers
Hutchinson, I.
Wardle, P.
Wilkinson, E.
Engineers/Works Dept
Dixon, J. Snr Engineer
Chilvers, R.
Clements, K.
Gunn, K.
Harmer, D.
Roberts, G.A.
Sear, J.
Straw, G.
Vardy, D.
Phlebotomists
Ferreday, E.
Needham, E.
C.S.S.D. Assistant
Cox, P.
Catering Department
Start, M. Catering Manager
Barks, G. Head Cook
Ryley, H. Assistant Head Cook
Cooks
Abbot, R.
Beaumont, M.
Blower, T.
Morgan, G.
Ramsbottom, P.
Varney, S.
Walters, K.
Watkins, N.
Dining Room Staff
Phillips, E. Dining Room Supervisor
Allen, A.
Alvey, J.
Benner, N.
Murphy, G.
Truscott, J.
Catering Assistants
Barrows, F.
Bennet, V.
Bradshaw, E.
Durkin, C.
Ealos, I.
Gallagher, S.
Seagrave, G.
Spafford, J.
Tryner, O.
Kitchen Porter
Botham, I.M.
Occupational Therapy Department
North, S. Head Occupational Therapist
Dadswell, M.
Eames, D.
Flood, M.
Kay, I.
X-Ray Department
Hubbard, B. Superintendant Radiographer.
Barsby, J.
Harbottle, J.
Penketh, M.
Turnbull, A.
Cardiographer
Peet, C.
Secretarial/Clerical Staff
Arnold, K.
Bawamia, S.
Beesley, D.
Blythe, S.
Bostock, R.
Bridges, M.
Briggs, H.
Charvill, R.
Cook, P.
Cooper, S.
Dennis, E.
Fearnley, F.
Gage, J.
Mellors, M.
Miles, B.
Miller, M.
Palmer, M.
Parkin, J.
Riley, M.
Shadbolt, M.
Spolton, M.
Spolton, B.
Stafford, M.
Voce, J.
Physiotherapy Department
Huggett, W. Superintendant Physiotherapist
Damrel, D. Assistant Superintendant Physiotherapist
Adams, J.
Ashley, M.
Attenborough, G.
Bailey, N.
Chatterton, R.
Clipson, A.
Cooper, S.
Griffiths, B.
Larner, C.
Lindley, J.
McGregor, K.
Rowland, K.
Sivasubramanium, A.
Spray, G.
Whyke, D.
Williamson, T.
Remedial Gymnasts
Barnes, J.
Thomas, M. (Trainee)
Operating Department Assistants (O.D.A.)
Arnold, N.
Sabin, R. (Bob)
Stokes, F.
West, R.
Consultants
Baker, G.
Barton, N.
Hopkins, J.
Jackson, J.
Lloyd Jones, K.
Milligan, G.
Moulton, A.
Mulholland, R.
Varian, J.
Waugh, W.
Webb, J.
Senior Registrars
Allen, T.
Forster, I.
Fyfe, I.
Holloway, G.
Tasker, T.
Registrars
Atkinson, R.
Hughes, A.
Wigt, P.
Modi, D.
Senior House Officers
Bartlett, C.
Clay, N.
Collins, P.
Farrant, C.
Ioannidis, T.
Anaesthetists
Abood, A.
Buck, H.
Ghosh, B.
Gooch, P.
Gray, P.
Hegarty, A.
Mulroony, P.
Nottcutt, W.
Rahman, A.
Skipworth, J.
Vinlacheruvv, R.
White, C.
Pharmacist
Mason, K.
Medical Social Worker
Giles, K.
Hospital Chaplains
Ellis, W.
Warburton, R.T.
Warne, H.
Hospital School
Faulkner, M. Head Teacher
Parkin, T. Deputy Head Teacher
Blagg, L.
Carter, P.B.
Higgins, J.
Jallands, E.
Jones, E.
Lonergan, A.
Smith, K.
Nurse Training School
Clifford, R.C. Senior Tutor
Cross, L.
Hurst, J.
Administration
Moore, J.S. Unit Administrator
Garton, A.A. Asst. Unit Administrator