The Scout Gang Shows - 1960's
Notts Free Press Jan 31st 1969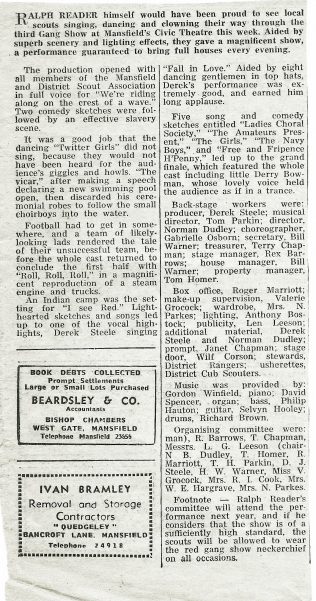 Notts Free Press Jan 31st 1969
In the late 1960's Mansfield "Boy Scouts" produced 3 shows at the Civic Theatre. I took part in all three and they have become my sole claim to fame for my life "on the stage".
Before readers think I am an avid collector of all things that happened to me during my formative Mansfield years I must own up……. these memories via paper clippings and programmes would not have been kept if it had been left to me. However they were sent to me by my ex-wife who was also involved in doing the make – up for these productions. Hence they became available for sharing….
As I remember the events were fairly hectic and involved many rehearsals in local scout and church halls (St Peters, St Johns etc). Having a cast of of about 80 lads (no girls allowed in those days) made everything very noisy and it was a wonder that a production took place at all.
If you read the press clippings they are very good at giving good copy for the many parents and friends whilst also enabling the reader to get an idea of the chaos that sometimes came about on stage.
There were many of my friends involved in these shows on the photo from "At the local" I can remember Dave Rowland and Alan Langdon who were both active Scout Leaders and held in high regard.