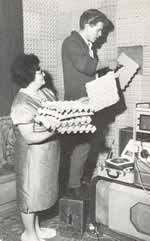 Bernard William Jewry
BBernard William Jewry was born in the Muswell Hill district of London on September 27th 1942 . At the age of two the family moved to Mansfield , where his mother ran a boarding house. Many of the guests were either artists or musicians appearing at the Mansfield Theatre and in this sort of atmosphere, it's not surprising that although only a toddler, he took an avid interest in music and stage work.
At four he made his first vocal stage appearance in "Babes In The Wood"; five years later he made his straight acting debut in the Carl Jenner Mobile Theatre ' s presentation of "No Room At The Inn"; and three years on, whilst attending boarding school he fronted his first band at local fetes and garden parties. Aged 17, he took part in a talent showcase at the Mansfield Palais. Also appearing were a group who ' d evolved from the remnants of the Diamond Skiffle Group and Roger Lymer and his Crusaders. Johnny Theakston with his Beat Boys newly re-named the Tremeloes won the competition and Bernard threw his lot in with the group as their road manager, occasionally joining them onstage.
The original shane Fenton – johnny Theakston
By the turn of the 1960's Theakston had assumed a more 'Americanised' stage persona from an amalgam of the lead character from the western "Shane" and a local printer firm, Fentons' . The newly re-christened and now fully professional "Shane Fenton and the Fentones" went from strength to strength in the Nottinghamshire area an d b, and encouraged the group to submit a tape recording to the BBC Light Programme (forerunner of Radio 1). Although granted a coveted audition tragedy struck just days before the event: 17-year old Johnny Theakston was taken seriously ill with rheumatic fever and was rushed into hospital, where he died two days later. The band, whose line-up had long settled of Jerry Wilcock and Mick Eyre on lead and rhythm guitars, Bill Bonney on bass and Tony Hinchcliffe on drums were ready to quit, but with some persuasion from Johnny ' s Mother they steeled their resolve and coerced Bernard into full-time singing by taking over the Shane Fenton role.Passing the audition with flying colours, they were given a slot on the two-hour "Saturday Club", a show recorded in Birmingham but transmitted nationally. The gig went so well they became regular guests on the series and the programme's musical director, Tommy Sanderson became their manager. He got them a long-term recording contract with EMI's Parlophone label, the eccentric relation to its associate labels, Columbia (Cliff Richard, the Shadows) and HMV (early Elvis, Johnny Kidd and the Pirates). True, George Martin ' s roster consisted of more unusual signings on the company like established comedy acts, like Bernard Cribbins, Charlie Drake and Peter Sellers, although their current biggest and consistent seller was teen idol Adam Faith. The bulk of the groups' production work was handled by George Martin  (the man behind the Beatles' hits), occasionally handing over to others.
first single
A breezy rendition of the George Formby novelty number "Five Foot Two, Eyes Of Blue" was the original choice for the first single but the topside was eventually written by fellow Parlophone artist Jerry Lordan. He was already responsible for a string of hits including "With A Girl Like You" for Cliff Richard, also the Shadow's "Apache"; he would go on to pen many others, including "Diamonds" and "Scarlett O' Hara", top five smashes for Jet Harris and Tony Meehan in 1963. Sharing the same Manager, Tommy Sanderson, Lordan and fenton met each other in the offices of music publisher Francis, Day and Hunter. Fenton's natural shyness and laid back demeanour inspired Lordan to cus tom write "I'm A Moody Guy" which contains his distinctive trademarks; a shifting chord sequence line with unexpected extra beats and notes (a style not dis-similar to Burt Bacharach), plus a catchy melody pleasantly sung by Shane with a few Holly-esque hiccoughs here and there for good measure. The finished song was delivered within 48 hours to George Martin who gave it his usual attention to clean production, Tommy Sanderson tinkled the ivories and Lordan himself is in there on his electric ukulele. Released at the end of September this minor classic entered the charts a month after release making no. 21 in a eight-week run and has become one of the better-remembered pre-Beat era British pop songs. In November, the "New Musical Express" contained a feature on Parlophone's new recording star.
The group's live appearances
The group's live appearances featuring a solid stage set quickly gained the group a good reputation. On stage, they cut fine figures; Fenton sporting a distinctive silver lame suit and backed by the smartly playing Fentonesin matching pink suits, resplendent with their corresponding white Fender guitars. Shane Fenton quickly became part of Britain's pre-Beat enclave beside other home grown talent including Cliff Richard, Marty Wilde, Duffy Power and Billy Fury. During the next four years, he and his Fentones regularly headlined pop-package concert tours alongside some of these big stars and also starred on legendary television shows like "Thank Your Lucky Stars" and "Ready Steady Go!"
After the success of "Moody Guy" there were high expectations for a follow-up and so George Martin tried the repeat formula approach. "Walk Away" was another fine Jerry Lordan song in which the musical theme he'd created continued in line with Fenton's image, only this time the "moody guy" is wistfully defiant after a failed relationship. Arguably equal to their debut in terms of memorable tune, solid production and some nice guitar licks the platter entered the charts less than three weeks after release. The single, whose flipside featured a gentle ballad, "Falling Leaves On The Ground", the first in a series of regular outings written by Shane, was promoted on "Saturday Club" and "Thank Your Lucky Stars", as well as in the seemingly non-ending touring circuit.
The group promoted their new single "Walk Away" on a tour of Granada Cinemas which found them in Worcester in January 1962. Alongside were the Temperance Seven, the Echoes, Johnny Gentle, Michael Cox, Nero and the Gladiators all compere d b y Freddie Earle. On Sunday 11th February they appeared at the East Ham Granadas where they headlined along Joe Brown and his Bruvvers and Johnny Kidd and the Pirates. These "package" tours were essential in the days before mass radio and television exposure. As many dates as possible woul d b e crammed into a tight schedule in a seemingly haphazard fashion up and down the country. One night you ' d b e playing in Bournemouth , the next in Middlesborough, back to Bristol, etc. Amazing feats when you consider only one motorway (the M1) existed and each destination was often a days ride from the last. Yet it was the only way the public at large could see their favourite pop and rock acts playing their latest releases, necessary for a hit record.
Through the long treks and sometimes questionable accommodation, a certain type of camaraderie often develop d b between some of the so-called 'rival' acts. Fights over running order and material were common, as were pranks, including an elaborate hoax which involved the supposed shooting of Kestrels vocalist Roger Greenaway (later half of David and Jonathan). Any Package tour featuring Joe Brown (the ' Cockney ' born in Lincolnshire) were littered wild anecdotes and Journalist Chris Welch later described the antics of the 'Lardies' (Shane Fenton, Eden Kane, etc.), whose affected superior air and attitudes were mercilessly sabotaged by Browns 'more irreverent' Rebels ' .
Pop music in Britain had entered a transitional period
Away from the fun and hard slog though, there was concern for Fenton as the atmospheric "Walk Away" had stopped short of their breakthrough 's success at number 38 before wandering off the charts. Pop music in Britain had entered a transitional period, the press claiming that rock 'n' roll was on the way out and citing Trad Jazz as the major force. in 1962 the Beatles were doing the rounds of the record companies without success, famously so at Decca where their manager Brian Epstein was told in no uncertain terms that groups of guitars were "on the way out." Action was necessary to prevent Parlophone's new 'guitar group' signing slipping away un-noticed. This year featured hit records made in a diverse array of styles and George Martin pulled the group into Abbey Road to record a revival of the old music Hall song "It's All Over Now". As cynical as it may sound, record companies would try to extract further revenue from old material they owned the copyright to before that ran out, as evidence d b y the flipside of their first single.
British pop and rock from the pre-Beat era is littered with examples of such revivals and not all of them came off. Johnny Kidd and the Pirates hit the charts with their first release, the classic rocker "Please Don't Touch", whom HMV saw fit to follow with the plaintive ballad "If You Were The Only Girl In The World", possibly a great song in its day but totally unsuited to the Pirates and it bombed. The pleasant, shuffling number "It's All Over Now" somehow worked though and marked the start of a toning-down spell for Fenton. It opened with a repeate d b ass riff, echoed on guitar, the Fentones augmented on the topside by Martin himself on piano and Fenton squeezing as much emotional mileage out of the song as he could. Hidden away on the flip is a real gem; "Why Little Girl" features a great Fentones rock 'n' roll performance which proves the UK Beat cupboard certainly wasn't bare before the Beatles. This confident performance with double-tracked vocals sounds as if it may have been given serious consideration as an A-side. As it was, the single found itself in the shops a bare fortnight after "Walk Away" wandered off the charts.
With their leader, the group were getting a good name on the pop circuit, as evidenced by appearing at Liverpool's famous Cavern club who decided to feature some of the popular groups from outside Liverpool in addition to the top local bands. One such gig took place on 8th August 1962 where they headlined a bill that included the Beatles and the Big Three. Continued touring helped their latest waxing creep up the charts which eventually settled at number 29, an improvement on their previous outing but still not ideal. Around this time, the Fentones started recording in their own right, denting the charts with "The Mexican".
Cindy's Birthday
Sixteen year old American TV star Johnny Crawford ("The Rifleman") had put a few songs in the American top 40 but scored a no. 8 hit with a Teen ballad called "Cindy's Birthday" (c/w "Something Special, Del-fi 4178) in the summer of 1962. It was quickly picked up to be Fenton's next A-side in an attempt to get the top ten breakthrough. It's a nicely-paced song cleanly produced with an easy-going melody and the group (augmented by piano) are accompanied by a string section in keeping with many from that year. With a cleanly picked guitar solo the whole mix bathed in that cool Abbey Road echo it was released in mid-September. However it was accompanied by good chunk of rock 'n' roll hidden away on the flipside. "It's Gonna Take Magic ", part written by Cliff Richards' producer Norrie Paramor came from the soundtrack of the Billy Fury film "Play It Cool" in which Fenton and his group made an appearance. Apparently, in the film itself Billy 'snarls' over the middle of the song!  Meantime, "Cindy's Birthday" entered the UK charts early in July.
"Cindy's Birthday" rose up the charts and breached the top twenty at no. 19 after which it slipped out again after an eight-week run, still it was his biggest hit to date. The Fentones mustered another minor 'solo' chart entry shortly after this. The Mersey Beat sound was looming on the horizon and the face of first .UK, then world pop would be changed forever. Nobody at EMI knew this at the time, of course, and after the pleasing sign of three increasingly successful hits came the pleasant country-ish "Too Young For Sad Memories", seen as a good bet for another hit. The Lional Bart penne d b allad sounded like the kind of material Frank Ifield was about to have major-league hits with ("I Remember You", "Don't Blame Me"). The single, whose Rock-a-billy b-side, "You're Telling Me " was notable for Shane's 'over-dubbed' call and response 'vocal, escaped in mid October to be promoted with more dates and – a big disappointment for all concerned – missed the charts entirely. At least Bart – who co-wrote Tommy Steele's 1956 then-revolutionary "Rock With The Cave Man" and Cliff's 1959 "Living Doll" – would experience more success with stage shows like the acclaimed "Oliver!"
On tour
In the early part of 1963 the group were on tour, which featured Joe Brown and the Bruvvers, The Tornados, Eden Kane, Peter Jay and the Jaywalkers and one Rolf Harris who'd had big hits with the novelty "Tie Me Kangaroo Down Sport" and the spiritual "Sun Arise". The inhabitants of Scarborough , Yorkshire , were able to experience all this at the Futurist Theatre for only six shillings and sixpence! Those were the days. The Arena Ballroom featured Screaming Lord Sutch and the Savages, The Brook Brothers and Freddie and the Dreamers, amongst others in the three-hour-plus show. Fenton was promoting his new single, the showy "I Ain't Got Nobody" coupled with "Hey Miss Ruby", though this change in style did not result in a hit. The topside later surfaced as Scopitone and Cinebox/Colorama Jukebox films, primitive 1960's precursors to today 's' ubiquitous pop video. Another Fenton title also listed on both these formats was the unreleased (in the UK at least) "That Old Yeah Yeah Feeling".
On 18th April 1963 the Beatles appeared in a live concert at the Royal Albert Hall for the first time, the second half of which was broadcast live on BBC radio. Besides them and Shane Fenton and the Fentones, the all-star bill featured Del Shannon, the Springfields, Lance Percival, Rolf Harris, the Vernons Girls, Kenny Lynch and George Melly. All acts sang "Mack The Knife" in the shows Grand Finale, after which Shane drove John Lennon, Paul McCartney, George Harrison and young actress Jane Asher over to journalist friend Brian Hutchins' flat in Chelsea and Paul started famously dating Asher soon after. Shane picked up with his ex-girlfriend Iris Caldwell, sister of Rory Storme (Ringo Starr left his band for the Beatles). Shane and his band had played at the Tower Ballroom in Liverpool where Iris worked as a dancer; they later married. While all this was going on Shanes' next 45 rpm offering, Eden Kane's "A Fools' Paradise" was credited to him alone and fared little better than the last. It may well have been chart material just twelve months previously, indeed, Shane's own catchy "You Need Love" on the flip sounded more in keeping with the emerging Merseybeat.
There was a second film appearance in the short "Take Six" alongside the likes of Eden Kane, Vince Hill, The Viscounts and Alan Klein. Les Vandyke's record of hit songs was excellent, most notably for Parlophone's biggest selling artist before the Beatles Adam Faith, and Decca's Eden Kane amongst others. His catchy composition "Don't Do That " featured a fully-rounded sound and Fenton's double-tracked vocals in the style of Billy J. Kramer. The comparison is appropriate here as Fenton stayed loyal to his manager Tommy Sanderson, turning down a management deal with Brian Epstein. Epstein offered Fenton the chance to record Lennon and McCartney's "Do You Want To Know A Secret" which Billy J. Kramer took into the top five soon after. Despite the solid arrangement and infectious sound of "Don't Do That " Fenton inexplicably failed to follow Kramer & co. into the charts although the solo billing in an era of groups wouldn't have helped. There was some extra exposure in August by having the song "Somebody Else Not Me" featured in the film "It's All Happening" (A.K.A. "The Dream Maker"). It's release on the accompanying Columbia Soundtrack LP marked the first (and only) time a Shane Fenton EMI recording appeared in stereo.
There was one more outing for the group on Parlophone, although with Parlophone ' s increased workload with Brian Epstein ' s now big-selling stable of groups this didn't appear until May 1964. "Hey Lulu", co-written by Clint Ballard Jr, writer of hits for artists like the Hollies (Here I Go Again") and the Swinging Blue Jeans (You're No Good"), had a party-type atmosphere with echoes of "La Bamba" about it. Good as it was it got simply lost in the sea of single releases now available as the Beat Boom tide washed further and wider across the country. The group ironically appeared collectively for the last time on "Saturday Club" before going their own ways. Fenton moved sideways to earn his living on the Cabaret circuit, gradually retreating away from the scene as more new waves of groups took a tighter grip on the charts. Meanwhile, his backing group continued on their own and even teamed up with UK rocker turned bluesman Duffy Power for a spell. However, after returning to Mansfield the Fentones officially wound up in September 1965.
The end of shane fenton and the fentones
Fenton turned to management with artists like the Hollies and Lulu amongst his first charges while taking occasional work. There was one more 45 release on Billy Fury's own short-lived label, coupling "Eastern Seaboard" with "Blind Fool". After his resurgence in 1973 disguised as Alvin Stardust there was an album slated for release on the budget Contour label, presumably a collection of some of the groups more worthwhile tracks. As it turned out, its release was cancelled (more info required on this LP, please!). Later on, Colin Miles had started putting together series of great retrospective compilations, firstly for EMI, then on his own "See For Miles" label. In EMI' s NUT EP series in the late 1970's, Shane's Fentons' outing (NUT4) featured all four hits, followed by the excellent twenty-track retrospective LP on the See For Miles label which left virtually nothing out. Rumour has it that there are a few goodies lurking in EMI's vast vaults somewhere, plus some editions of "Saturday Club" still exist. It appears that the 1962 "Swing Along With Shane" radio series though may sadly have been lost for good unless any home recordings were made, un unlikely scenario considering the expensive nature of reel-to-reel recorders and tapes at the time. Nevertheless, there still seems to be plenty of material available for a possible rarities collection to be issued (anyone interested?).
Alvin Stardust
Like fellow Parlophone artist Paul Raven, who ceremonially buried his past on the river Thames before coming back big-style as Gary Glitter, Bernard Jewry's character of Shane Fenton was also laid to rest, although not in so dramatic a fashion. Completely re-born as Alvin Stardust a whole new "glittering" chart career kicked off with "My Coo Ca Choo" in 1973. If the face seemed a little familiar to long-term Pop Pickers it was because a decade earlier Shane Fenton and his Fentones had made a lasting impact live and produced a solid catalogue of recordings, some of which are real corkers. Had the excellent "I'm A Moody Guy" been made the year before (1960) it may well have been regarded as a classic today, perhaps up there with Johnny Kidd's "Shakin' All Over" and Cliff's "Move It". It still gets the occasional re-release on compilations whose overall content show that home-grown pre-Merseybeat pop was not always as weak as often depicted. Perhaps the follow-up "Walk Away" may have done better too. And don't forget The Fentones, no mean instrumentalists as demonstrated on tracks like "The Mexican" and "The Breeze And I". We'll never know what different circumstances may have produced, perhaps we ought to be grateful that Shane Fenton ever happened at all.
Alvin Stardust will be appearing at Mansfield Palace Thearte on Friday 14 May 2010 – for more information visit www.mansfield.gov.uk/palacethearte