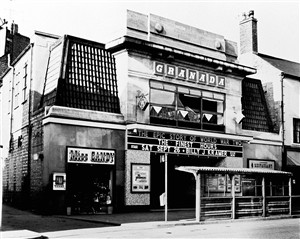 Saturday 23 February 2013 was a very special date in the history of Mansfield; it marked the 50th anniversary of the day that the legendary Beatles first performed in the town.
The Beatles appeared at the Granada on Westgate in 1963. Many well know acts performed at the Granada including Cliff Richard, The Rolling Stones and Tommy Steele, unfortunately it was flattened in 1973 to make way for the Fours Seasons Shopping Centre and Primark now stands on the sight.
The Beatles appearance in 1963 was as part of the Helen Shapiro tour, also on the bill that night The Honeys and The Kestrels. When they appeared again a month later the tour was with Tommy Roe and Chris Montez.
To mark this special occasion Mansfield 103.2 programme controller and lifelong Beatles fan Ian Watkins organised for the tribute band 'Hey Beatles' to perform at a  special gig at the St Peter's Centre Mansfield.
The audience for this sell out gig included people that were there in 1963.
Ron East remembers being in Mansfield in 1963 with his parents "…we went to a restaurant down the side of the Granada and saw the Beatles when they came out of the Granada after the gig….I wasn't able to go as 5 shillings was too expensive in them days…"
Jill Murfin went to the gig with her husband "…the atmosphere was 10 out of 10…everybody was dancing and standing up….and dancing in the aisle…"
David Watkins was 16 when the Beatles played in 1963 "…the first visit was to really see Helen Shapiro the Beatles were just in the background… 1 month later they had taken over and they were really the ones that people wanted to see…one of the memories that is very clear in my mind was that people listened to the music and the screaming came later…"
Thank you to,
www.heybeatles.com/splash.html