Miller's Business College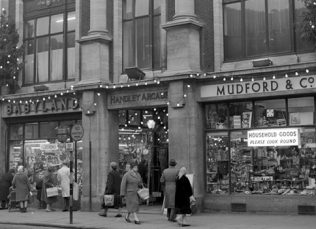 Miller's Business College was a private College owned by the Miller family and started in the early 1900's to provide intensive courses in Shorthand, Typing, Book-keeping and Business Studies for young people on leaving school. 
These classes were daily 9.30 a.m. – 12.30 p.m and 2.00 p.m. – 4.00 p.m.  There were also Evening Classes on Tuesdays and Thursdays for 1 hour sessions for Shorthand, Typing and Book-keeping from 5.00 p.m. – 8.00 p.m.  Students could enrol for Evening Classes from the year before they were due to leave school.
    The Mansfield College was situated above the Handley Arcade on Leeming Street and there was also one on Wheeler Gate in Nottingham.
    After the 2nd World War, Ministry of Labour Trainees were enrolled to help them obtain jobs.  There were similar courses at the Portland Training College, but there the Students 'lived in'.
    The lessons were usually of 1 hour duration.  Lessons were given and homework set, and this was marked regularly on a daily basis, with corrections being done so that Students learnt from their mistakes.
    After lunch each day, 12 spellings were given – Monday – Wednesday with 14 on Thursday.  These 50 had to be learnt for Friday when the Students were tested on them.  After the test 'Long Tots and Cross Tots' were done.  These were 3 long columns of £.s.d which had to be added upwards and across with an agreeing total of the answers.  The Students found this Friday afternoon session of great benefit in helping them with their spellings and also with speeding up their additions.
    Examinations were held at the end of each term in Shorthand Theory,     Shorthand Speeds 50 – 120 w.p.m., Typewriting and Book-keeping.  These were external examinations and certificates were awarded for those who passed.
  This intensive course enabled a Student to be quite proficient at the end of 6 months to enable them to obtain a job.  Some Students carried on afterwards at Night School to enable them to increase their speeds in both Shorthand and Typing.
    The Students who came were mostly girls, but a number of young men also came for training together with the Ministry of Labour Trainees.  These Trainees were paid a small wage while doing their training.
    Both Mansfield and Nottingham Colleges were reached by flights of stairs (there was a lift at Nottingham), this helped to keep us all very fit!!!
   The Mansfield College closed in July 1962.  Dictaphones were more in use and Shorthand was not needed so much.
   When the Queen Mother came to Mansfield in 1950, the Students had a very good view as her car went down Leeming Street.