High Oakham Girls' School - My Memories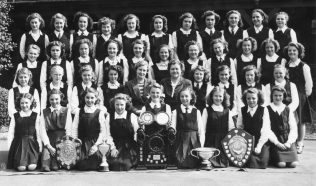 Valance, Church St. Mansfield
Univeral Pictorial Press Agency London
I commenced High Oakham in September 1947 in a class of 40 children. I had failed the 11+ and was known as a border-line case. Two years later I was recommended to take the examination for the grammar school again, but I was perfectly happy at High Oakham and so didn't tell my parents about this, and obviously they weren't contacted. So I continued my education until July 1951 after which I took a year's secretarial course at the West Notts Technical College. At the end of my school career in 1951 I was awarded a book prize for four years full attendance.
High Oakham was divided into two more or less separate schools. Even the playing field had an imaginary line drawn down the middle and we weren't supposed to mix. Extra pre-fabricated classrooms were built on this  field, the girls one side and the boys the other.
Our headmistress was Miss D J Weddle who was very strict, but also very fair. We had a lecture telling us that we had to wear our berets at all times when out of school but in our uniform of navy and red. When queuing for the bus we had to let adults go on first and give up our seats when necessary. Also young ladies should not be seen eating fish and chips in the street or throw litter down!
The motto for the Girls' School was "To thine own self be true" and at first our inter-house names were Keys, Clarions, Torches and Oaks. In my last year when the school integrated with the Boys' school the house names became Sherwood, Clumber, Hardwick, Southwell., Trent and maybe one other.
Our teachers were Miss F Sissons (later to become Mrs Harpham) for English and Secretarial subjects; Miss J Pollard – English and Drama; Miss B Hubbard – French; Miss J Ullyatt – History; Miss D Hall started us off with Arithmetic, Algebra and Geometry (thank goodness by the summer of 1949 the last two subjects were dropped, I hated them!) then Mrs G Kent took over teaching Arithmetic. Miss N Brown – Needlework and Miss G Hay – Cookery. These two teachers lived in the flat attached to the school and we had to take turns in cleaning the flat for them – very convenient I thought! Mrs C Reid – Art; Miss D Hall – Physical Training; Miss H Barker and Miss F Murden – Music.
I still have my school report. My very first end of term exams showed me in fifth position in the form which merited me with the remark of Miss Weddle as "Well done! Keep it up Shirley." The second term ending I had dropped to 9th with several teachers comments as "Disappointing exam result but good term work" "Fair, more effort needed" "Disappointing, should be much better than this" "Good conduct on the whole but inclined to be talkative" so the remark from Miss Weddle says "A little less than your best I think, Shirley". We had to take our reports home for a parent's signature, and my father always signed so I got a real telling off. The next term I pulled up to 4th in class and I got a star for effort ! What did Miss Weddle put …"Ah! I thought you could do it. A much better result." Thinking back, this shows the interest that she took in each pupil.
One memory I have is having my blouse sleeve rolled up by the teacher and she slapped my arm whilst telling me that I had not listened to her, and this was because I had creamed my marg and sugar together and then added the egg without the flour and so the mixture curdled. I've not done it since !
High Oakham Girls' School Choir was renowned in the district and county, winning many cups and trophies. We were trained by Miss Hilda Barker and Miss Weddle was the accompanist and later Miss Murden accompanied. On the 15th July 1950 the choir broadcast on the north regional radio programme. During that year a visitor named I think Herr Hoya who might have been from the Proteous Prisoner of War Camp, asked if he could compose a new setting of the 23rd Psalm to show the versatility of the voices of the choir, and it was eventually made into a gramophone record – I believe it took up two records because it was so detailed. Unfortunately my parents wouldn't purchase a copy for me because we didn't possess a gramophone at the time. I really regret this but I don't suppose a copy could be traced now after all these years.
In May 1951 two of us from the choir, Janet Richardson and myself along with two others from St John's School and one from Teversal were chosen to make up fifteen scholars from Nottinghamshire to participate in the choir of 1,150 massed voices taking part in the Schools Music Association Concert in the Royal Albert Hall, London in connection with the Festival of Britain. This was a great thrill for us to be conducted by the great Sir Adrian Boult and accompanied by the London Philharmonic Orchestra. Dr R Vaughan Williams composed a cantata "The Sons of Light" especially for the occasion.
Later in the June, because we had won the Midland Championship in Nottingham, the choir of 40 voices travelled down to London in a special coach on the "Master Cutler" train to take part in the National Choirs Competition for the Festival of Britain at the Central Hall, Westminster. During our visit we were taken to the Houses of Parliament where we were met by Mr Bernard Taylor, MP for Mansfield, and later in the evening we went to the Festival Ballet at the Stoll Theatre. The whole of the next day was spent at the South Bank Exhibition.
Two or three ex pupils are still in touch with Miss Joyce Pollard, and she told them that Miss Barker and Miss Hubbard both died on the same day, and two cherry trees were planted up on the field where the prefab buildings were in their memory – a lovely thought.
On the 26th July 1951 my time at High Oakham came to an end, and I can say that I really enjoyed my school days.  The school has seen many changes since the day I had to take an examination to become a pupil there in 1947.  My husband, who is also an ex High Oakham pupil and I have been back to the school open days many times and enjoyed reading the headteachers weekly reports.  I believe these may now have been placed with the Nottingham Archives