The History of Mansfield Shoe Co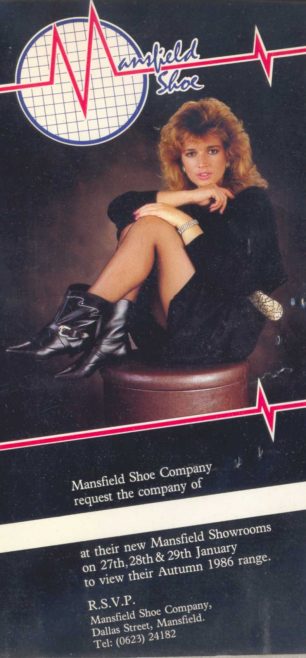 Royce, Gascoine and Co., was founded as a partnership in 1867, between a Mansfield Shoemaker, Mr J.J Gascoine, and a Nottingham Leathermaker, Mr G.A Royce. By 1891 there were factories in Mansfield and Leicester.
In 1900, The Mansfield side of the business was formed into a separate company, Mansfield Shoe Co. Ltd, with premises on Dallas Street. Originally Mansfield Shoe Co. made boots, but this was gradually replaced with women's shoes, 1907 saw the introduction of the 'Devonshire' shoe range.
By 1908 Mansfield Shoe Co. had four sites in the town and was producing over a million pairs of shoes a year.
Local man Cliff Burton describes how he came to be working at Mansfield School Company.
'… unfortunately the 'Shoe Co' as it was known locally, was not an easy place to gain employment, it was ruled by the Royce family and you had to be vetted and your pedigree checked, before you were even considered for employment. After two interviews the criteria being met, I was offered employment and would be working in the Zephyr Lasting Department. The hours of work were to start at 7.30 am till 12 noon and 1pm till 5.30 pm, with a 10 minute break in the morning and afternoon. Saturday morning was part of the working week and overtime would be expected when required, I received the princely sum of £3-12-6…'
Changes at Mansfield Shoe Co.
In 1935 Mansfield Shoe Co. became the founder member of Norvic Shoe Company, the largest producer of fine footwear in Great Britain.
In 1981 the company became the Mansfield Shoe Group, with factories in Bristol, Doncaster and Ayrshire. All the factories were modernised and by 1988 over 50,000 pairs of shoes were made and sold a week.
'…the Mansfield Factory was part of the Norvic Group of Companies with factories at Norwich, Northampton and Wellingborough. Making ladies, gents and children's footwear, a few of the trade names we made within the group were: Sir Herbert Barker, Norvic Topflite, Kiltie and State Professional. At Mansfield we made the Norvic Wonder Girl range, Queen of Sheba and of course our very own Devonshire Freedom and Fashion range…' Cliff Burton
The end
During the 1990's changes in world markets had an impact on the footwear industry in Mansfield, and in July 2004 came the sad news that Mansfield Shoe Co. one of the towns best known names, would be forced to close.
'… I saw a lot of changes in my time there, from being a large successful company, to the fall of the Norvic Empire in 1981, rising again as a private company under Mr Reg Pointer, which was very successful! But, during the late 1980's, cheap imported footwear and textiles were being flooded in to the country, working methods, materials and designs had to change to be competitive, this unfortunately led to its downward spiral, Mr Pointer sold the Company and retired in the mid 1990's…' Cliff Burton