The Houfton Brothers and Mansfield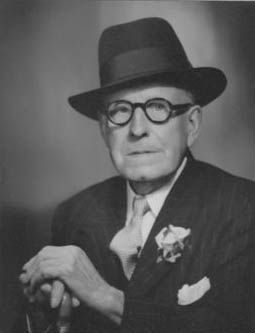 .
When coal miner Charles Houfton married Phoebe Plowright in Basford, Nottingham in 1852, they may not have expected that so many of their children would, like their father, become involved in the coal industry.  Even one of their daughters, Sarah Jane married a Colliery Agent, John Smith in 1893
John Plowright Houfton
The first of Charles and Phoebe's sons, John Plowright Houfton was born in Chesterfield in 1857. At the age of 14 he commenced work in the offices of High Park Colliery, Eastwood.  The Bolsover Colliery Company was founded in 1890, and John was appointed as its first manager supervising the sinking and development of the pit.
Following on from that in 1894 he was appointed General Manager of the company after the foundation of Creswell Colliery. Other pits were then sunk by the company at Crown Farm, Mansfeld (which led to the establishment of Forest Town) Rufford, Clipstone and Thoresby by which time John was Managing Director.
He was chairman of the Mansfield Railway.
After moving to live in Mansfield he became a local councillor and was elected Mayor of Mansfield in 1912. He was also president of Mansfield and Mansfield Woodhouse District Hospital. In 1922 he was elected MP for East Nottingham, and was knighted for his services in 1929. Sir John died later the same year.
Charles Albert Houfton
Second son Charles Albert was born in Chesterfield in 1862, then moved to Mansfield in 1898. He was a mechanical engineer working in the collieries in the area. He went into partnership with his brother James and founded the Mansfield Engineering Company in 1900, which later became one of the largest businesses in the area. He was also appointed as a Justice of the Peace.
James William Houfton
Next came James William born in 1865 who seems to be the only brother not to have been directly involved in the coal industry, although no doubt his business had mining connections as he was co-founder of the Mansfield Engineering Company. He married Mary Ellen Bennett in 1896 who tragically died in childbirth only two years later in 1898.
James William made a substantial fortune sufficient to purchase Wellow Hall in 1915 where it seems that he very much lived the life of a country squire – hunting, racing horses and entertaining. In 1938 he emigrated to Australia with a nurse from the Mansfield District Hospital and died out there in 1945.
Arthur Frederick Houfton
Arthur Frederick (my grandfather) was born in 1868 in Moss Green, Belper. In 1891 he took the opportunity to work for the Butterley Company involved in building St. Pancras Station, London.
Following this, he sold everything he had, borrowed some more, and took the financial risk of returning to Mansfield to build houses, joining his brothers in the foundation of Forest Town and other pit villages.
Having successfully made his fortune, he first leased the house of Fountaindale near Harlow Wood from the Colliery Company and then in 1919 purchased Papplewick Hall which had been unoccupied for some years.  He also owned another property in Magdala Road, Nottingham where he died in 1956.
Ernest Henry Houfton
Last but by no means least of the brothers was Ernest Henry born in 1874. He became a much-respected doctor in Mansfield and area. For a number of years he had a surgery in the Avenues at Forest Town. He was an Honorary Surgeon at Mansfield District Hospital for a prolonged period of time. Ernest died in 1926 and in commemoration of his work at the hospital a legacy of £2,000 was bequeathed by his brother James William to the hospital in the 1940's. This was used for beds to be dedicated as follows:
(a) J. W. Houfton – donor
(b) Dr.E.F. Houfton – in commemoration of his work at the Hospital.
If anyone has any further information regarding these commemorative plaques, I would be interested to learn of it.
Percy Bond Houfton
Many other members of the Houfton family were also involved in the establishment of the mining industry around Mansfield, the most famous of whom was the brothers' cousin, Percy Bond Houfton (1874 – 1926) son of Elija Houfton and Elisabeth Bond. Percy started out on his career at the Bolsover Colliery Company going on to become a well-known architect responsible for the layout and design of several "Pit Villages" including Creswell, and the White City at Rainworth together with the Institute and Concert Hall. He designed housing estates in Chesterfield and buildings for other areas of the UK as far away as South Wales.
George Houfton
Meanwhile the brothers' nephew George was busily employed making steel cables for the mining industry at his Midland Wire Ropeworks
– – – – – – – – – – – – – – – – – – – – – – – – – – – – – – – – – – – – – – – – – – – –
It seems strange that the only time I have had any connection with the coal industry was being taken down a coal mine on a school visit in the 1950's. Now that pit, like most others has closed maybe for ever – a situation that would have seemed unthinkable to the Houfton brothers all those years ago.
Benjamin Houfton
April 2010