Most of us have fond memories of pubs in Mansfield.  Nights out with friends, meals with families, live music, dancing and meeting  the love of our lives.  It is for all these reasons that here at Mansfield Museum we get lots of enquiries from people looking for images of their favourite local pubs past and present.  Just this month we have received a painting and a selection photographs linked to the former pub 'The Crowne' in Mansfield.
Jodie Henshaw – Museum Curator
Painting by Gerry Blood 
Gerry Blood was born in 1932 the son of a the son of a Nottingham coal miner, a keen road racing cyclist and gifted painter. Gerry was appointed to be the official artist for the Seoul Olympics  and also has his work collected by England cricket captain David Gower and tennis star Steffi Graf.
Photographs donated by Glenn Sutcliffe, taken by Glenn of regulars to The Crowne in the early 1970's 
Glenn Sutcliffe & Rebecca Maguire, taken at the Welbeck Game Fair, 1977.
I was born in Mansfield and worked at that time in the fitters shop at Mansfield Brewery.
Rebecca was from Kew in London but was in Mansfield to  do her 'foundation year', 1976 – 1977 at Mansfield Art College. We first met in the Crowne pub and very soon after lived together in the upstairs flat on the corner of Newgate Lane and Redcliffe Road. We left Mansfield together in August 1977 to move to Portsmouth so that Rebecca could begin her Arts degree course.  After that, Rebecca went on to Goldsmiths for a PhD.
Taken at Blackpool while on a coach trip organised by The Crowne 28th August 1972.
Left to right:  Paul van Casteran (His parents owned the Pine Lodge Hotel on Nottingham Road, Mansfield) , Kathy Carello (USA), Glenn Sutcliffe,  Neil Wright (lived with his parents on Bath Road, Mansfield) , Shiela Cardente (USA). Kathy & Sheila were from Rhode Island and were visiting relatives in Mansfield. They happened to visit the Crowne and we all quickly became friends.
Fiona McGregor and her sister Ailsa were Crowne regulars. They attended Queen Elizabeth Grammar School and lived with their parents at Abbeydale on Crow Hill Drive. Their father was a mining expert. Around 1977 the family moved to Yellowknife in Canada.
Picture taken 1971 in Mansfield.
Left – right , Margaret 'Stevie' Stevenson, ? , Maggie Williams (lived either in Sutton or Kirkby)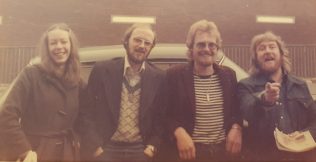 Photo taken in 1977, behind the Crowne
Left to right,  Brian & Elaine Slack (They lived in Woodhouse, Brian worked for the NCB), Glenn Sutcliffe, Roger ?
Photo taken in 1973 on the Ladybrook Estate.
Glenn Sutcliffe and Jackie (Jackie was, I think, from Edwinstowe)