William Crowder of Ratcliffe Gate Mansfield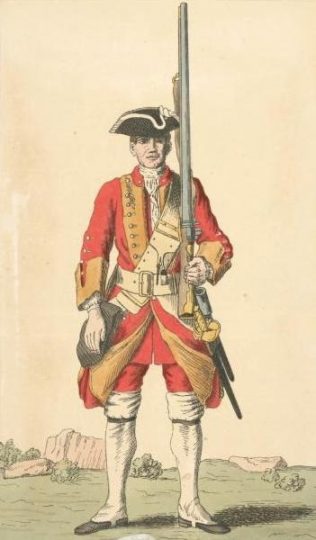 An extract taken from a book in Mansfield Reference Library, title sadly not recorded, referring to my Gt Gt Gt Gt Grandfather William Crowder. It tells of his experience in the Peninsula Wars of Spain and Portugal.
Also an extract is here from the Campaign Medals Index for William, and a picture of the uniforms worn by the 45th Nottinghamshire Regiment.
Transcript of the extract reads as follows:
A brief recital of the services of one of the private soldiers who volunteered at this time into the 45th Regiment will show how manfully these Nottinghamshire Militia men could fight, and how nobly they maintained the reputation of their county. Private William Crowder joined the Nottinghamshire Militia in 1801, and served with the regiment until August ,1807, when he  volunteered into the "gallant 45th". He landed in Portugal, with a detachment of that regiment, in 1808 and directly took part in the war then raging against the forces of the first Napoleon. He formed one of the "forlorn hope" at the storming of Fort Picariene, at Badajoz; the attacking forces consisting of the grenadier and light infantry companies of the 45th, the 14th and the 88th Regiments, 3 companies of the 60th Rifles and one company each of the 9th and 21st Portugese regiments. On that occasion Crowder escaped being wounded by the enemy, but fell from one of the scaling ladders, the effects of which he felt ever after throughout his life. He was discharged in November, 1814, but for many years afterwards he had no pension. He was awarded a medal with 13 clasps for the following battles: Rolica, Vimiera, Talavera (in which action he was wounded in the left hand), Busaca, Fuentes D'Onor, Cuidad Rodrigo, Badajoz, Salamanca, Vittoria, Pyrenees, Mo?lle, Orthes, and Toulouse. He was also present at the battle of Nives, and the affairs of Campo Mio and Tarboz. Private Crowder died at Mansfield, January 1st 1871, in the 85th year of his age.