The Rocks and Steps of Sheepbridge...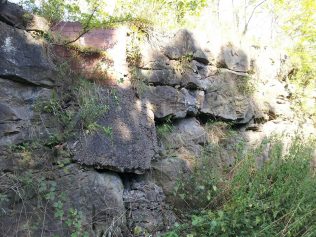 I have known of several ex-Mansfield folk who live in distant lands, who remember their old town with such admiration.  They ask if there are any photographs of certain places, well, I thought I might help by writing a page with some photographs that I have recently taken.
This is a spot that has changed little over the past 100 years, the bridge and steps of Sheepbridge Lane.
We were lucky here in Mansfield with the Sand and Stone that abound in our area, it enabled thousands of men to earn their living by mining these important products from under our feet. The three products of stone, sand and lime stone were essential  to the building trade.
Normally, these were dug out and transported to the place where they were used in the production of the many fine buildings we can still see surviving today.
I can only think of two of our roads that, like the pictures below show, the stone was dug out of the roads for the benefit of the Railway Companies. I am sure there must be many more? One is Sheepbridge, and the other is Portland Street.
Looking at these photographs, one can see where the original railway lines crossed Sheepbridge, and the height and depth of the stone that was removed is there to see.
The steps were built I believe for the use of the many workers who worked in the Mills of yester year. The Mills I refer to were Little Matlock, the Hermitage the Quortex,  and Kings Mill.
I went on to study the rock, the chisel signs are still very prominent, and the old stone steps have been replaced  with brick steps.
The bridge underneath consists of bricks in a herring bone pattern.
It was indeed a feat of engineering, for originally, the Railway Lines ran along over the rock formation.