Boots Cash Chemists 'Pelham' Series. Private Collection
YMCA Series. Private Collection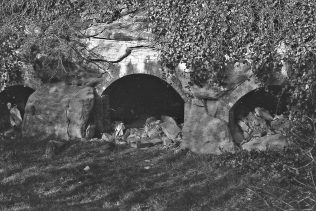 D Johnson Private Collection
Today [2011] the early Rock Houses of Mansfield still create a lot of historical interest, and for those interested there is much to be discovered in books, postcards and other sources. Below is just a taster from some of these.
Books
W. Horner Groves who wrote about the Rock Houses in 'The History Of Mansfield, Part 1' published 1894, told readers they were at the top of Ratcliffe Gate near to the Reindeer Inn. He refers to their origin as being shrouded in mystery. Groves is of the opinion 'these places are many hundred years old, and were made by squatters who saw an easy mans of escaping rent and possessing comfortable apartments into the bargain.'
For anyone interested in the Rock Houses, this section of Groves book is worth reading. He  refers to the enclosure of 1850 and mentions names of people who had lived in houses at the top of the rock who were besom-makers, and the names of the squatters in the lower houses.
When Groves wrote his book he stated only one of the houses was still occupied by 'a man named Bramwell, who has converted  what was formerly the stack-yard of the besom-makers into a litle paradise in the way of gardens.'
Pictorial Books
Bygone Mansfield, Mansfield in Old Picture Postcards all have interesting picture of the Rock Houses and some of the occupiers.
Post Cards.
There have been many post cards produced featuring the Rock Houses and post marks can help date these. Additionally messages on the reverse can be of added information and interest. For example:
Post card No 1 dated 1906/8 sent to Miss Jowett, Morton, Rolleston from Kittie ? who included in her message 'Thought you would like these interesting relics of Mansfield amongst your collection.'
In April 1910 M.C. sent post card No2 to South Wales and wrote the message 'the rooms of houses on this card is hewn out of the rock as you will see where some are pulled down, they are very old but really wonderful.'
On a post card produced by Frith not dated, (not reproduced) the writer says 'I thought you would like this of the old rock houses as we knew them.'
Photographs
In December 1980 the CHAD newspaper took photographs of workman making safe these properties, the negatives were just recorded as Rock Houses subsidence.
The last photograph was taken by the late Dereck Johnson of Forest Town.
Memories
There are various memories about the Rock Houses including when youngster put grass sods on the chimneys creating a rather smoky atmosphere for the occupants, or throwing stones down the chimneys.
Suggestions for further research and photographs:
Books on Old Mansfield to be found in bookshops, libraries. Minute books and early documentation on Mansfield, in Nottingham Archives office.
Newspapers – Mansfield Local Studies Library
Old Postcards can often be discovered at Post Card Fairs
Census Returns
COMMENTS
While we will consider people memories and relevant information to this page, we will not add comments of a political nature by action groups.